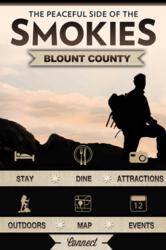 Nashville, TN (PRWEB) May 13, 2013
Mobile travel apps are emerging in Tennessee tourism. Two East Tennessee travel apps launched this week as a part of National Travel and Tourism Week.
Blount Partnership unveiled the first "Peaceful Side of the Smokies" tourism app. The app has a full list of Blount County's lodging, dining, attractions and outdoor activities options as well as an events calendar and a GPS-enabled map with filtered waypoints by category. The mobile app allows users to connect with the area through social media platforms enabling engagement between the local tourism authority and those using the app. The app is available for use on iPhone, iPad and Android phones in their respective app stores. For more information on the Peaceful Side of the Smokies app, visit http://www.smokymountains.org.
The Southeast Tennessee Tourism Association launched the Southeast Tennessee Cultural Heritage Driving Trails mobile app. The app includes SETTA's seven theme-based driving trails: Civil War Trail, Native American Trail, Outdoor Recreation Guide, Fun on the Farm, Arts Trail, Music Trail, and the Religious Heritage Trail. The Civil War and Native American Trails, the first trails to be completed in the app, are significant to Southeast Tennessee as it commemorates the Civil War Sesquicentennial and the 175th of the Trail of Tears in 2013.
The app, created by BarZ Adventures, is available in the Apple iTunes and Google Play app stores. For more information about the mobile app and the Southeast Tennessee Tourism Association, visit http://www.southeasttennessee.com.
To find your next vacation sweet spot explore tnvacation.com and join other Tennessee travelers following us on Facebook, Twitter, Pinterest, Instagram and YouTube.
# # #