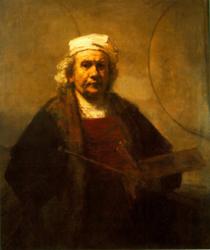 The very spontaneity and economy with which Rembrandt sketched his impressions make them dazzling to connoisseurs.
New York, NY (PRWEB) May 17, 2013
Rembrandt Harmenszoon van Rijn (1606 – 1669) was a Dutch painter and etcher. He is generally considered one of the greatest painters and printmakers in European art history and the most important in Dutch history. His contributions to art came in a period that historians call the Dutch Golden Age. 
Rembrandt was one of the greatest draftsmen in the history of art. Because he usually regarded his drawings as a purely private record of observations and feelings, they are often deceptively simple. Yet the very spontaneity and economy with which Rembrandt sketched his impressions make them dazzling to connoisseurs. Indeed their spontaneity and freshness have a direct appeal sometimes missing from more elaborately executed pieces. 
Rembrandt produced etchings for most of his career, from 1626 to 1660. He took easily to etching and the freedom of this technique was fundamental to his work. At first he used a style based on drawing, but soon moved to one based on painting. Towards the end of the 1630s, he moved to a simpler style, with fewer bitings. In the mature works of the 1650s, Rembrandt was more ready to improvise on the plate and large prints typically survive in several states, up to eleven, often radically changed. His prints have similar subjects to his paintings, although self-portraits are relatively more common, and portraits of other people less so. Many borrowings and influences in his work can be traced to artists as diverse as Mantegna, Raphael, Hercules Segers, and Giovanni Benedetto Castiglione.
The full version of Mighty Mack's Drawings: Rembrandt van Rijn App features over 100 drawings by the great master Rembrandt. 
This App is available for iPod Touch, iPhone and iPad. Optimized for iOS6, retina display and iPhone 5. It allows the users to share images via email, Twitter and Facebook, or save them to camera roll (with no watermarks). Share the artist bio via email. Select favorites. View the images one by one, or enjoy a slideshow.
Enjoy this fantastic visual gallery, share the images with friends, and learn about the artist's life.
Updates Include:

Optimized for iOS 6.1.3
Optimized for iPhone 5
Updated User Interface
New Splash Page
App Requirements:

iPad, iPod Touch or iPhone, with iOS 5.0 or higher
Wifi connection to download the app
An internet connection for sharing images via email, Twitter or FB (no internet connection required to view the App content)
Click here to see the complete collection of Aramis Artists Apps released by Mighty Mack.
--
Mighty Mack is a leading publisher of distinguished digital products for the consumer and professional markets. The Company leverages newly available digital tools to create, design, and share new ways of consuming information and experiencing the world around us. The company has released a variety of best-of-class Apps, including Advertising Today, Morpheus Dreams, Where2Boss?, Agora Briefcase, Film Today, among many others.
To learn more about Mighty Mack please visit their website at http://www.mightymack.com or email them to press(at)mightymack(dot)com.