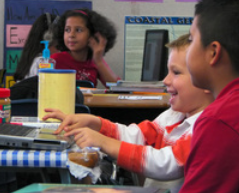 Members track progress in the form of a brain puzzle.
Toronto, ON (PRWEB) May 12, 2013
Gil focuses carefully on his screen, drawing white bands of snow that will get Santa past volcanoes and grazing caribou to the checkered flag in Snow Line, one of several games that encourages the development of executive function skills on the Thinking Skills Club website. "Watch it this time," he says, as he carefully adjusts the lines for another trial run.
Planning, revising, and retesting your solution are common activities in both science and games, and are some of the skills that call on the frontal lobe of the brain where the 'executive function' skills are said to be located. At the recent Learning and the Brain conference, Executive Functions for School Success, in Arlington, Virginia, neuroscientists and educators came together to discuss these thinking skills with respect to their importance in children's education. Many ways of encouraging them were fielded in the conference's workshops and sessions, including story sharing, meditation and just plain exercise.
There were also computer games on offer, such as Brainware Safari and C8-Kids, which offer proprietary software, and the Thinking Skills Club, which offers a collection of online games culled from other websites. "Other vendors create their games for specific purposes," says club founder, Mitch Moldofsky, "but they're not always fun. Ours is a curated site, finding games kids already like that have similar qualities."
Pitched as an after school club or for use at home, the website's games are free to use, but membership is required to track progress in the form of a brain puzzle.
At the conference, the club offered 10 free memberships, drawing interest from a broad range of school types, such as an outdoors school for ADHD kids and a Quaker boarding school as well as Special Education consultants who use the club to keep students engaged while dealing with other clients. "My goal is to keep the club flexible in structure and low in cost," says Moldofsky, "I'm relying on teachers to be creative in how they use it."