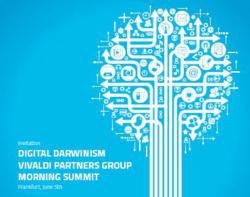 New York, NY (PRWEB) May 13, 2013
On June 5th, a Summit on "Digital Darwinism" will be hosted by Vivaldi Partners Group in Frankfurt, in collaboration with Leaders We Love. Vivaldi Partners Group is a strategic consulting firm that includes a digital and technology agency known as Fifth Season.
During the Summit, conference participants will explore this new era of "Digital Darwinism" from several perspectives. Senior executives from incumbents will meet with disruptive challengers. World-class thought leaders will meet with hands-on business practitioners.
The speaker list includes:

Dr. Martin Enderle, CEO, Scout 24 and Senior Vice President, Deutsche Telekom
Philip Rooke, CEO, Spreadshirt
Karl-Heinz Land, Co-author of the new book, "Digital Darwinism"
"I am thrilled to be part of this group of leading thinkers to talk about the era of Digital Darwinism," said Erich Joachimsthaler, Founder and CEO of Vivaldi Partners Group and one of the event's speakers. "In today's competitive, real-time world, marketers will need to adapt in order to succeed in this new environment."
Registration and more information is available at: http://vivaldipartners.com/digitaldarwinism
About Vivaldi Partners Group
Vivaldi Partners Group (http://www.vivaldipartners.com) is a global firm that unlocks innovation and growth opportunities for brands and businesses in a digitally connected world. Vivaldi Partners Group uses its expertise in strategy, innovation, marketing, and organization to identify new demand-based opportunities, build strong brands, create and realize engaging experiences, and lead change through the development of people. Vivaldi Partners Group comprises of Vivaldi Partners, Fifth Season, a digital, design and technology agency, and E-Edge.