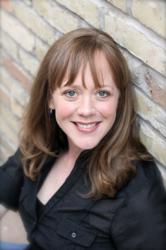 "Offers great guidance for writing about your family."

—Redbook
(PRWEB) May 11, 2013
Kate Hopper, author of the bestselling Use Your Words: A Writing Guide for Mothers, offers a unique way to celebrate this Mother's Day. Hopper teaches the specialized art form of writing about motherhood, and more importantly, using "motherhood as a lens through which to see the world." What better way to celebrate Mother's Day than to give the gift of self expression? Kate realizes that some of the most powerful experiences and thoughts come from motherhood, and has been sharing her writing expertise with mothers for years.
On May 14th, she will teach a specialized workshop on writing as a mom at CorAzon in her hometown of Minneapolis. Kate's teaching is always accessible to beginners, yet still informative for more experienced writers.
Kate also founded the Motherhood and Words Conference, a convention that gathers and honors those who write about motherhood in groundbreaking and original ways. This year's will take place from June 17 to June 21 at the Madeline Island School of the Arts. Learn more at her website.
5/14 7:00-8:30pm
Workshop
CorAzoN
4646 East Lake St.
Minneapolis, MN 55406
5/17 - 5/19
RiverTeeth Nonfiction Conference
Ashland, OH
6/17 - 6/21
Motherhood and Words
Writing Retreat
Madeline Island School of the Arts
978 Middle Rd.
La Pointe, WI 54850
USE YOUR WORDS introduces the art of creative nonfiction to women who want to give written expression to their lives as mothers. Written by award-winning teacher and writer, Kate Hopper, this book will help women find the heart of their writing, learn to use motherhood as a lens through which to write the world, and turn their motherhood stories into art. Each chapter of USE YOUR WORDS focuses on an element of craft and contains a lecture, a published essay, and writing exercises that will serve as jumping-off points for the readers' own writing. Chapter topics include: the importance of using concrete details, an overview of creative nonfiction as a genre, character development, voice, humor, tense and writing the "hard stuff," reflection and back-story, structure, revision, and publishing. The content of each lecture is aligned with the essay/poem in that chapter to help readers more easily grasp the elements of craft being discussed. Together the chapters provide a unique opportunity for mother writers to learn and grow as writers.