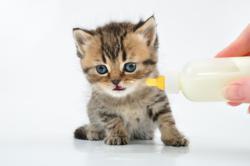 Afraid of long-term commitment? Fostering is the answer!
Titusville, Florida (PRWEB) May 10, 2013
Kitten season is in full swing at the SPCA of Brevard and it is bursting at the seams with orphaned litters of kittens. What exactly is kitten season? "Kitten season occurs from April until November and it's when kittens are born in record numbers to unaltered female cats who are allowed to roam outdoors," says Debra Cantwell, Adoption Coordinator at the SPCA of Brevard, "Several times a week during kitten season, motherless litters of very young kittens, oftentimes just days old, are brought to our shelter by good Samaritans, after they find them abandoned and in dire need of care. We rely on foster homes to care for these helpless creatures until they are old enough to be vaccinated and spayed or neutered so they can be placed for adoption. Unfortunately, we are running out of foster homes but the kittens keep coming in!"
Foster families provide the love and stability these pets need to be happy and healthy, both mentally and physically. When an orphan animal has been in a foster home, he or she is more confident and social; therefore the pet transitions into its new home with greater ease. During the first few weeks of a kitten's life, it is completely dependent on its mother (or foster "mother") and must be bottle fed every few hours. As kittens grow older, they do not need to be bottle fed as often and eventually are able to eat on their own. Plus, there is nothing more fun than playing with tiny kittens and watching them explore the new world around them.
The SPCA desperately needs short-term foster homes to help care for the large number of orphaned kittens at the shelter. Generally, the foster time period ranges from two-six weeks. The time period can vary, however, depending on the needs of each pet. The SPCA provides all the supplies necessary including food, bowls, toys, carrying kennel, etc. as well as the training on how to care for foster pets. Additionally, any medical needs, checkups or health issues will be taken care of through the SPCA.
For more information, please contact Kris Dickey, Volunteer Coordinator at 321-362-0565 or to fill out an application to foster pets, visit http://www.spcanorthbrevard.com and click on the "fostering" link under the Volunteer tab.
###
About SPCA of North Brevard
The SPCA of North Brevard, Inc. is a private, non-profit organization with the mission of "protecting and providing a voice to the homeless animals of Brevard County." Founded in 1979 in Titusville, Florida, the SPCA is the largest private no-kill animal rescue group in Brevard, finding homes for more than 1,300 animals a year. It is the first adoption facility with free-roaming cat rooms in the County, allowing adopters to interact with the cats in a more home-like setting. The SPCA of North Brevard Clinic also provides reduced-price vaccines to the public and has performed more than 50,000 low-cost spay/neuter surgeries since 1999.
For more information, visit http://www.spcanorthbrevard.com.