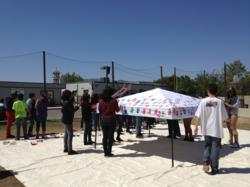 Palmdale, Ca (PRWEB) May 10, 2013
Last month, Ace Canopy showed up at the guidance charter school in Palmdale, California with a white pop-up tent, large canvas tarp and paint supplies for the students and teachers to paint on. Kamal Al-Khatib collaborated with Ace Canopy sales manager Steve Benson on the function along with Palmdale Mayor James C. Ledford. The function was just the first for Ace Canopy that plans to expand the program in collaboration with Mayor Ledford across the Antelope Valley area and onto the rest of Southern California.
Ace canopy general manager Angelina Urquhart said, "We are very excited about the canopies for kids program and are working hard to make sure it last for a long time."
The program consists of the canopy company showing up with a 10' x 10' white pop-up tent, a 30 x 30' white canvas tarp and paint supplies. The canvas is laid out so the pop-up tent can sit on top of it then. The children dip their hands in paint and put their handprints on the bottom of the tent while teachers put their handprints on the top of the tent; symbolizing the unity between students and teachers. The Canopies for Kids program was created by Michael Stein, founder and CEO of Ace Canopy, who said, "We had extra stock of pop-up tents and canvas tarps and tried to figure out a creative way to alleviate some inventory. This is much more satisfying than selling them on sale because they are going to a great cause."
Stein promises to expand the program throughout California and in Texas, where Ace is currently expanding.
If you are a school in the Southern California area and wish to be a part of the canopies for kids program, please contact ace canopy at 1-800-838-3057 or visit the website at http://www.acecanopy.com.
Ace Canopy Main Office:
38940 Trade Center Dr., Palmdale, CA 93551