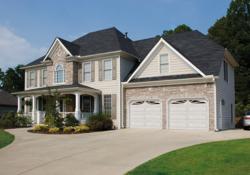 Toronto, ON. (PRWEB) May 21, 2013
The modern family has a lot on their plate in today's hectic world. Whether it's getting to work on time in the morning, making sure that the kids climb aboard the school bus, dealing with nosy coworkers or a demanding boss, and cleaning the house and preparing for the next day, today's parents need tools to help them navigate their daily schedules and routines. McKee-Horrigan Inc. has proven themselves a reliable and trustworthy company for families in the Greater Toronto Area since their inception in 1974. McKee-Horrigan Inc. has helped families install and maintain sturdy and sharp garage doors that keep their homes safe while remaining stylish. They are now adding a new product to their line that is far smaller and less complex than their usual jobs, but still important to the security and peace of mind of the average family. By joining forces with LiftMaster, McKee-Horrigan Inc. is now primed to offer customers the 'MyQ' device, which will help them monitor their home and keep tabs on their family even while at the office or during a vacation.
The LiftMaster MyQ works by taking advantage of the WiFi installed in many contemporary garage doors. Instead of needing to be physically close to the garage door to operate it, users now have access to it from their work, school, or anywhere else life takes them. The MyQ can be manipulated through a smartphone app, a convenient solution that opens access to this product up to most modern-day families.
Parents now have control over their garage door and more information as to what's going on around their home. If a child happens to come home for lunch and then doesn't head back to school for the day, the LiftMaster can clue suspicious parents in on that little truant. This is an important tool for safety, as MyQ users will be aware of the comings and goings of all family members. If someone doesn't come home one night, they'll be the first to know.
The LiftMaster also boasts an extra layer of security, and guards against intruders and criminals. The MyQ is equipped with perimeter alert systems that can track suspicious movement. With a half mile range and long battery life, users will never be caught unawares by a suspicious figure lurking through their neighbourhood. Knowledge is power, and the MyQ can let families know whether their home has been approached by unexpected figures or vehicles. This information can be useful if the police need to be called or to check up on someone at home.
Interested in learning more about this product and its many benefits? Contact McKee-Horrigan to obtain a free quote. They can be reached at 1-888-244-4171 by phone, or sales(at)mckeehorrigan(dot)com. They operate from 4060 Ridgeway Drive #4, Mississauga, Ontario.