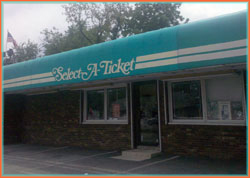 It is fitting the sponsorship name changed to Party in the Poconos as there really is a festive atmosphere surrounding the race
Riverdale, New Jersey (PRWEB) May 14, 2013
New Jersey ticket broker SelectATicket reports NASCAR tickets are available now for the Party in the Poconos 400, which will be held at the Pocono Raceway in Long Pond, Pa, on June 9th. Anyone interested in obtaining Pocono 400 tickets is advised to act quickly, as this is a very popular event on the NASCAR calendar.
Shortened from 500 miles to 400 miles in 2012, this Sprint Cup Series race has a colorful history. In 2005, Carl Edwards won the event after logging practice on a video game, having never driven on the track, and in 2011, Jeff Gordon scored his 84th victory here, putting him in third place on the all-time list. Race goers with Pocono 400 tickets will be hoping for the kind of excitement witnessed in 2010, when Kasey Kahne flew down the Long Pond Straightaway and became airborne during the final lap. Two years earlier, Kahne had won the race despite being in 38th place at one point.
The Poconos Raceway has been one of the most popular NASCAR tickets since Tom Petty won the first race here in 1974, and it was the first track to hold back-to-back 500 mile races in the same weekend. Called the "Tricky Triangle", the track has much tighter turns than a standard tri-oval layout. Each turn has its own character and each straightaway is a different length, making this a very challenging race for both drivers and teams.
The 2013 NASCAR Sprint Cup Series is starting to heat up. Brad Kesolowski is looking for a strong follow up to his first championship, but the Dodge that carried him to victory in 2012 has been replaced by a Chevrolet. And while Jimmie Johnson is on a mission to reclaim the title he has won five times, he has only taken the chequered flag once in the Poconos, at the Pennsylvania 400 in 2003.
"I have been to the Pocono Raceway for a number of races and I can tell you firsthand, the fans come out in droves and have a great time. It is fitting the sponsorship name changed to Party in the Poconos as there really is a festive atmosphere surrounding the race. There's not many chances for locals to catch a race so the Pocono 400 is very popular," says Select-A-Ticket's Mark Gibbons.
About SelectATicket.com
SelectATicket has been in business over 35 years as an experienced, trusted and secure ticket broker.
SelectATicket sells tickets to Broadway, Concerts, Sports, and Family Events and is a proud member of the National Association of Ticket Brokers (NATB).
For a complete list of available tickets, go to http://www.SelectATicket.com or call 800-735-3288 to order tickets by phone.