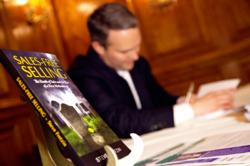 Now, I live every day as if it was my last, and that changes everything.
Chicago, IL (PRWEB) May 16, 2013
Chicago entrepreneur Steve Fretzin has an incredible personal story to tell about the life-changing plane crash that turned his career around and led to his success as a premier business coach, speaker and author. Now, Fretzin wants to help others be successful in reaching their personal and professional goals. In his new book, Sales-Free Selling, he shares his inspiring message and reveals his highly effective sales methodology.
The frightening and devastating accident that Fretzin survived in his mid-20s transformed his
approach to life dramatically from carefree and idle to focused, motivated, and grateful. As Steve embraced a more appreciative perspective, he took the opportunity to seize a second chance at fulfilling his dreams. "Now, I live every day as if it was my last, and that changes everything," said Fretzin. It's driven him to become a Chicago area top sales coach and president of his own company, Sales Results, Inc. In 2005, Steve founded the business with the vision of giving others a second chance at reaching their fullest potential.
Known for his proven sales approach, Fretzin helps business professionals transform the way they sell to increase revenue and significantly improve their sales performance. Sales-Free Selling examines the lives of three struggling sales people who are up against a competitive, unpromising selling environment where the old ways of selling no longer work. Steve offers an innovative twist that inspires the characters and the reader to triumph and conquer their goals despite their perceived challenges.
"In business and in life, people can fall into a rut where they feel like a hamster on a wheel. They are getting nowhere and need a boost to rise up and take advantage of the opportunities they may be missing," said Fretzin. "The methodology presented in 'Sales-Free Selling' is a results-oriented process for success that I hope will help many people make positive, dramatic changes in their lives."
"Sales-Free Selling: The Death of Sales and the Rise of a New Methodology" is now available at http://www.amazon.com.
About Steve Fretzin
Driven, focused and passionate about helping business professionals reach their full potential, Steve Fretzin is a leading Chicago area business coach, speaker and author. He provides one-on-one coaching, group training and seminars through the company he founded, Sales Results, Inc. In addition to Sales Results Inc., Fretzin oversees Team Discovery, LLC, the American Club Association, and Networking Monkey, LLC, the number one ranked portal on Google for Chicago area networking events. For more information, please visit http://www.salesfreeselling.com.