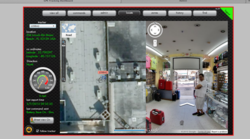 "We are seeing huge demand from businesses large and small, to have their shipments tracked using our miniature GPS package trackers," says founder, Matthew Holland.
London, UK (PRWEB UK) 11 May 2013
Imagine this situation: you have a very important customer who has just ordered a large volume of your most valuable widgets. They need them asap. If they disappear, you need to find them. If they get delayed, you need to know - often before the courier company can tell you via their ancient, barcode scanning machines. How can you manage the needs of the customer and the delivery process once it has left your premises?
Start-up GPS tracking solution provider, trackinapack.com, has the answer - and the results to prove it.
"We are excited about the capability of our new GPS package tracking and the results of our tests with Google's new mapping and image data," says founder, Matthew Holland, "our devices include highly sensitive GPS combined with additional positioning technology, so shippers of packages and cargo can know exactly where they go."
From boxes of car parts, leather gloves and custom made chocolates to hard drives, medicines and high value electronics, the visibility and realtime information provided by tracking packages using GPS delivers real management and security benefits that cannot be provided by legacy systems offered by the mainstream courier companies.
One of the largest social media companies is just the latest - and unexpected - customer of trackinapack.com GPS package tracking.
"They wanted to ensure that the recycling of waste server components from their data centers was being securely managed by 'plugging the visibility gap' from when the material leaves the data centers and arrives at the recycling and disposal point," explained Mr Holland.
The trackinapack.com solution enables multiple consignments to be tracked in realtime - globally - and with functionality known as 'geofencing', alerts are triggered when packages fail to arrive or leave a point in the delivery process. Packages can be tracked on streetlevel maps and also via smartphones and tablets.
Innovation in this area isn't just related to trackinapack's unique GPS tracking device technology. Their unique pricing model has disrupted the traditional GPS tracking contract and monthly fee model. trackinapack's customers utilise the service on a 'pay as you use' basis similar to a prepaid cellphone.