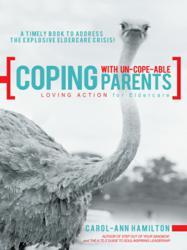 Toronto, Canada (PRWEB) May 13, 2013
After contending with her stubborn 89-year-old father, prolific business and self-help author, Carol-Ann Hamilton has decided to share her gained expertise on successful caretaking. Hamilton's new book, "Coping with Un-cope-able Parents: LOVING ACTION for Eldercare," offers an original approach for how to handle "un-cope-able" aging parents complete with 12 innovative coping keys.
Fuelled by sheer frustration, Hamilton has delivered a completely honest depiction of her life as a caretaker to bring a sense of relief to those burdened with similar demanding stressors.
Hamilton hopes to provide support to the "Sandwich Generation," otherwise known as Baby Boomers, who deal with the strain of caring for elderly parents along with their own families' needs. After decades of experience, Hamilton has discovered and successfully tested 12 out-of-the-box survival strategies and offers them in a hilarious, yet poignant manner.
Find inspiration in Hamilton's story as she shares her keys to coping with one of the most overwhelming and grueling chapters of life - caretaking.
For more information visit, http://www.carolannhamilton.com.
"Coping with Un-cope-able Parents: LOVING ACTION for Eldercare"
By: Carol-Ann Hamilton
Soft cover: $11.99
ISBN: Hard cover = 978-1-4525-5488-4
Soft cover = 978-1-4525-5487-7
E-version=978-1-4525-5486-0
Availability: Amazon, Barnes & Noble and BalboaPress
About the Author
Carol-Ann Hamilton is a Pioneer-Visionary who ignites people and organizations toward purposefulness. A seasoned Organizational Development consultant, she brings over 30 years' experience in a variety of Fortune 500, entrepreneurial, not-for-profit and project management settings to leadership development and cultural transformation endeavors through her companies, Changing Leadership and Spirit Unlimited. Carol-Ann is a Bachelor of Education graduate of the University of Toronto and a familiar presenter at international conferences. In her coaching practice, she supports those standing at crossroads to identify their bigger mission and live their dreams.