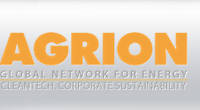 "We need to streamline these processes and find stable homes to park all of this money."
New York, New York (PRWEB) May 30, 2013
On June 24th, AGRION will assemble member organizations like Bank of America, Con Ed Solutions, PwC, Chadbourne & Parke, AECOM, CEFIA, and Petra Solar to address critical barriers to solar energy development and to make a case for injecting more resources and capital into the sector.
The group will be made up of project and structured finance professionals, technology providers, ratings agencies, installation firms, deregulated utilities, law firms, shadow banking players, institutional investors, and more. Spearheading the initiative is Pamela Jao, AGRION Program Director, who indicates that, "The Task Force will aim to tackle capital market funding solutions, lowering Balance of System (BoS) costs, creating public private partnership structures, and engaging corporate and university CFO's."
Financial analysts' have taken an amplified interest in the sector in light of developer First Solar's report of a 52% revenue increase and a net profit of $59 million for the first quarter of 2013. The context of solar is transitioning, as most manufacturers have shifted production to Asia, and focus is now turning toward building more solar farms.
According to Nicholas J. Davis, Managing Director of AGRION Americas, "People read the news and think bankrupt solar manufacturers like Solyndra and Suntech signal an industry in distress. Quite the opposite – solar technology has gotten so cheap in recent years that more and more Megawatts are being deployed while inefficient manufacturers are being forced out of the market." The price will level, but in the meantime, a glutted market and reduced costs mean that more panels are generating electricity on our rooftops and on the ground.
With a lack of investor education on the solar asset class, a dearth of tax equity investors, and no capital market structure yet, there remains a lot of untapped demand in the market. AGRION sees this task force as a critical way to encourage the design of innovative financing mechanisms,reduce soft costs, and build public private partnerships. "We need to streamline these processes and find stable homes to park all of this money."
AGRION provides a platform for members to connect, exchange ideas, and identify business opportunities. Through weekly meetings in offices around the world, AGRION members can determine critical business drivers, explore innovation, and realize sustainable growth in a world challenged by resource constraints, climate change, and evolving political landscapes. To learn more or create your own profile, visit http://www.agrion.org.