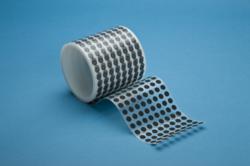 Elkton, MD (PRWEB) May 13, 2013
The Fujitsu ARROWS X F-02E and Raku-Raku SMART PHONE F-12D have a high level of water resistance. They are rated to IPX5 and IPX8*. These devices feature this durability in a thin and attractive design.
The ARROWS X F-02E and Raku-Raku SMART PHONE F-12D utilize the GAW325 acoustic adhesive vents made by W. L. Gore & Associates that are mounted on the interior of the device housing to provide a liquid and particulate barrier for the phones' acoustic openings. Gore will be demonstrating these vents in use in the Fujitsu ARROWS X F-02E and Raku-Raku SMART PHONE at CTIA 2013, Las Vegas, NV, May 21-23, in Booth 4234.
Gore's 300 Series Acoustic Vents are made from an ePTFE material and have been rigorously tested to allow for improved acoustic device performance with excellent sound quality and protection from liquids, dust and other contaminants.
For more information, visit Gore at CTIA 2013 or visit http://www.gore.com/portableelectronics.
Note: IPX5 and IPX8 water resistance -- The IPX5 designation indicates that the mobile phone can normally function after being sprayed with water from a nozzle with a diameter of 6.3 mm at a rate of 12.5 liters per minute from a distance of approximately 3m for a period of at least 3 minutes. The IPX8 designation, in the case of the F-02E, indicates that the mobile phone functions normally after being immersed in room-temperature tap water to a depth of 1.5 m for 30 minutes.
About W. L. Gore & Associates, Inc.
Gore is a technology-driven company focused on discovery and product innovation. Well known for waterproof, breathable GORE-TEX® fabric, the company's portfolio includes everything from high-performance fabrics and implantable medical devices to industrial manufacturing components and aerospace electronics. Founded in 1958 and headquartered in Newark, Del., Gore posts annual sales of more than $3.2 billion and employs approximately 10,000 associates with manufacturing facilities in the United States, Germany, the United Kingdom, Japan and China, and sales offices around the world. Gore is one of a select few companies to appear on all of the U.S. "100 Best Companies to Work For" lists since the rankings debuted in 1984. The company also appears regularly on similar lists around the world. Learn more at gore.com.