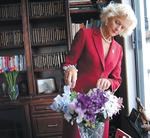 "Bringing communities together, working within the Barter Rewards Network to solve member needs, that is what it is all about" Said Tate Carson
Orlando, Florida (PRWEB) May 13, 2013
Tate Carson of Barter Rewards has been busy tripling the size of the company in the last year and sees similar growth over the next year. Expanding to Europe and New Zeeland, Tate has his eye on the Orient. "We are in negotiations with interested parties in Japan, China and Indonesia, they see our unique system of barter and they get it, they want to be a part of the growth" Tate continued, "We treat every new member like we treated our first, the same as our branded colors, like Gold."
Barter Rewards, who has been working with Jimmie Van Zant in several co-promotion ventures, has been helping the star find a Florida residence. Jimmie Van Zant, who recently hit 800,000 views on YouTube with his latest hit "Unfinished Life" is a busy guy and loves the attention he gets from Tate Carson and his staff. Barter Rewards, a Florida Based international Barter Exchange Company, is helping Jimmie get set up in the Central Florida area.
Barter Rewards, who recently expanded to New Zeeland and Australia, signed long time golf pro Jim Thorp to a mutual promotion deal as well. "The relationship is a great one" says Tate Carson, "We really are able to work with our celebrity spokesman in a mutually beneficial way, our offerings and member agents cover such a wide array of services"
Theodora Uniken Venema, recent winner of the Realtor of the year award, has worked with Barter Rewards on several special projects. "I have dealt with many celebrities in my years in real estate, so the challenges Tate gave me with Jimmie Van Zant and Jim Thorp were simple ones."
Theodora is President of the Orlando Rotary Organization, and said "Tate Carson and Barter Rewards are going to be a big help to Rotary this year, his generosity of spirit and that of his company, matches the dedication to service we have at Rotary." The first annual Rotary Red Fish Tournament is sponsored by Theodora's Downtown Orlando Florida Rotary Club and one of Tate Carson's Barter Rewards members, Captain Matt Valliere owner of Backwater Tour Company in St. Augustine Florida, is helping organize it.
Robert Washick, MBA and president of Professional Benefit Administrators, Inc. is helping coordinate the Tournament between Rotary and Barter Rewards, "Tate Carson and his organization is a pleasure to work with, its going to be a great event!"
"Bringing communities together, working within the Barter Rewards Network to solve member needs, that is what it is all about" Said Tate Carson "Over the next year, members will be able to trade goods and services around the world, imagine bartering excess services at home for a trip to France or China"
Barter Rewards can be reached at 407.690.6824. Jimmie Van Zant's new single "Unfinished Life can be seen on YouTube now. Captain Matt Valliere can be reached at 904.509.1662. Theodora Uniken Venema can be reached at 407.557.5446. Jim Thorp can be seen on tour this summer on the Professional Circuit all over the US and Canada.