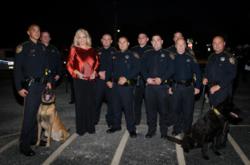 Houston, Texas (PRWEB) May 11, 2013
K9s4COPs founder Kristi Schiller was honored last night for her non-profit work that is credited for saving countless law enforcement officers' lives.
The special thanks was presented by Harris County Sheriff Adrian Garcia – as part of the Harris County Peace Officers' Memorial Service, a moving remembrance of the county's fallen officers.
"These men and women gave their lives in the line of duty for the rest of us, making the ultimate sacrifice," said Schiller, founder of the non-profit foundation K9s4COPs. "The fact that they included me in this ceremony was incredibly moving."
Schiller founded K9s4COPs after seeing a news story about K9 Blek, who was killed in the line of duty. The report stated the agency would not be able to afford to replace K9 Blek. Inspired to action, Schiller formed the 501(c)(3) foundation to provide highly skilled and trained K9s to law enforcement agencies and school districts across the nation.
In the last two years, K9s4COPs has given 40 dogs to 17 agencies in seven states.
"She saw a need after seeing a story on the news and jumped to our rescue," Sheriff Garcia said about Schiller. "She has singlehandedly tripled our K9 force, which allows these brave officers to make it home safely each night."
Since 1895 in Harris County, 39 deputies have been killed in the line of duty.
This honor came on the heels of another prestigious award, the Leon Goldstein Award. Crime Stoppers bestowed this award on Schiller at a luncheon in her honor on May 4.
This award is presented annually to an individual who has made a significant contribution to fighting crime in the greater Houston area. Schiller embodies the citizen resolve for which this accolade was established.
"I could not be more humbled to be given this distinction," said Schiller. "We work daily to add to the safety of our community and schools – on behalf of our entire K9s team, it is in honor to be recognized by another national non-profit for giving back."
For information on K9s4COPs, please visit http://www.K9s4COPs.org or contact Jenna Jackson, Director of Communications, at jenna(at)K9s4COPs(dot)org