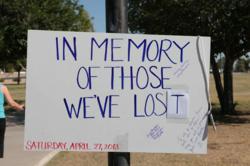 Research shows lupus is more pervasive and more severe than people think
Belleville, Ill (PRWEB) May 13, 2013
Clusters of purple T-shirts are moving in unison across the United States during Lupus Awareness Month in May. They are worn by individuals committed to raising awareness of what they consider one of the cruelest, most mysterious diseases on earth. Allsup, a nationwide provider of Social Security Disability Insurance (SSDI) representation, veterans disability appeal and Medicare plan selection services, is a sponsor of the Lupus Foundation of America's Walk to End Lupus Now™ events.
Allsup will provide free SSDI eligibility screenings and information at walks in selected cities this year (details below). Many individuals with lupus eventually stop working due to the disease's devastating effects, which means they may be eligible for SSDI benefits.
The Lupus Foundation of America encourages the public to Put on Purple May 17, 2013, and tell people why. Thousands of walkers in nearly 60 cities are raising money for research of the disease, which affects an estimated 1.5 million people in the U.S.
"The Lupus Foundation of America's Walk to End Lupus Now brings friends, family, co-workers and communities together in the fight to end lupus," said Sandra C. Raymond, Lupus Foundation of America president and CEO. "Research shows lupus is more pervasive and more severe than people think. We need more awareness of lupus, and we need a much more robust public and private research effort to solve the cruel mystery of lupus."
Lupus is a chronic autoimmune disease that can affect people of any age, but is more common among minorities and women of childbearing age. Lupus causes the immune system to attack its own body cells, causing severe joint and muscle pain, extreme exhaustion, fevers and skin rashes. Lupus also can lead to organ failure and death.
A 2002 report from the Centers for Disease Control and Prevention found that the death rate from lupus increased by 35 percent over a 20-year period (1979-1998). The increase was greatest among African-American women, whose death toll from lupus rose by almost 70 percent. More than one-third of all deaths resulting from lupus occurred among people younger than 45.
Individuals can locate walks in their community at WalktoEndLupusNow.org. Allsup will be providing free SSDI eligibility screenings at walks in the following cities:

New York, May 18, 2013
San Diego, May 19, 2013
Denver, June 2, 2013
Los Angeles, Sept. 28, 2013
Boston, Oct. 26, 2013
San Francisco, Oct. 27, 2013
Learn more about Lupus Awareness Month at lupus.org/awarenesskit.
For more information about Social Security Disability Insurance, visit Expert.Allsup.com.
ABOUT ALLSUP
Allsup is a nationwide provider of Social Security disability, veterans disability appeal, Medicare and Medicare Secondary Payer compliance services for individuals, employers and insurance carriers. Founded in 1984, Allsup employs more than 800 professionals who deliver specialized services supporting people with disabilities and seniors so they may lead lives that are as financially secure and as healthy as possible. The company is based in Belleville, Ill., near St. Louis. Visit http://www.Allsup.com or connect with Allsup at http://www.facebook.com/Allsupinc.
Contact
Tai Venuti
(800) 854-1418, ext. 68573
t.venuti(at)allsupinc(dot)com
AllsupAlliances.com
Rebecca Ray
(800) 854-1418, ext. 65065
r.ray(at)allsupinc(dot)com