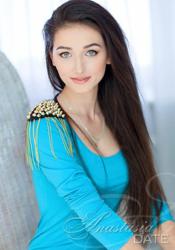 The team is also hearing some lovely success stories of happy couples who have found love. We're delighted that our members are happy with the service they are receiving
(PRWEB) May 11, 2013
There has been a great deal of coverage in the press recently about the growth in the online dating industry. This is certainly the case for Anastasia Date, a popular dating site. The company is enjoying record membership registrations from singles that are keen to find their perfect match.
The company put this growth in members down to their increasingly loyal following on their Social Media platforms, Facebook and Twitter, and to the increased downloads of their Anastasia Date Google App.
The growth in the dating industry is certainly playing its part in the success Anastasia Date is enjoying. However, they are known as a trusted, well designed dating site where men and women of all ages can find and chat to their choice of potential dates.
Anastasia Date has taken full advantage of the surge in dating online and in the use of mobile internet and social media. Their Facebook and Twitter pages have now become popular venues for members to engage and leave their positive dating stories.
The company continue to improve the functionality and performance of their website and social media sites. They are determined to ensure their members receive the best service available. It is a business tactic that is working. Anastasia Date has been successfully helping people find love for two decades now and their popularity enjoys continued growth.
Chief Communications Officer of Anastasia Date, Lawrence Cervantes told us, "We're delighted to see such a healthy increase in registrations for membership. It seems that people are finding us through recommendations and re-tweets they receive from Facebook and Twitter. The team is also hearing some lovely success stories of happy couples who have found love. We're delighted that our members are happy with the service they are receiving."
Anastasia Date members are telling them they enjoy the ease by which they can quickly and simply search for potential dates and connect with people. And with over 4 million international clients, there are many suitable romantic candidates for members to choose from!
Anastasia Date is encouraging their members to share their dating stories on Facebook and Twitter now. They're hoping to hear more stories of romance and to keep their finger on the pulse of what their members are saying.
The team is dedicated to continued communication with their members to ensure they are getting the best from their dating experiences. They want their members to enjoy their online dating in a safe and comfortable environment. Their Google App, which is becoming increasingly popular, is proving popular amongst members who like to have mobile access to their accounts. The company is certain this has also helped increase its popularity, with people checking their messages and chatting to new romantic prospects wherever they are.
In the last year alone the company has recorded an astounding 220% growth. These figures are not only impressive; they are an indication of the quality of the dating service they provide. It's also a sign that their members are succeeding in their online dating aspirations to find the perfect romance.
About Anastasia Date
Anastasia Date is a premium, international dating site helping singles to find romantic companions with beautiful women from all over the globe. The company now enjoy over 4 million international members. Their popular website attracts over 10 million visits per month. Anastasia Date provide their members with a safe, secure and pleasant online environment for members to meet their romantic partners. The company are known for the high levels of customer service to their international clientele and their state of the art website and social media sites which include video chat and a popular mobile app for Google Play store.