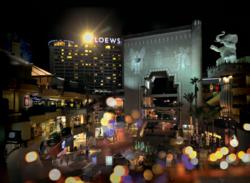 Los Angeles, CA (PRWEB) May 13, 2013
Families can feel the magic of Hollywood this summer with the Reel to Real package at Loews Hollywood Hotel. The hotel, located in the famed intersection of Hollywood & Highland and adjacent to the Dolby Theatre, where the Academy Awards® are held, boasts spectacular views of the iconic Hollywood sign, as well as direct access to the Hollywood Walk of Fame.
Tours of the Dolby Theatre can be booked seven days a week from 10:30 a.m. to 4 p.m. and include a peek into the Dolby Lounge, a 'celebrity hot spot' during the taping of the recent 85th Annual Academy Awards®, as well as a sneak peek of an Oscar® statuette.
The Reel to Real package includes:

In-room movie, including award-winning titles still in theaters
Gourmet buttered popcorn delivered to the room
The package, starting at $224 per night, is based upon availability. For reservations, call 800-23-LOEWS or visit loewshotels.com/hollywood online. Black-out dates and restrictions may apply.
About Loews Hollywood Hotel
Situated in Los Angeles' most revered neighborhood, where dreams come true and commerce thrives, the Loews Hollywood Hotel rises 20 floors above the famed intersection of Hollywood and Highland. Spectacular views of the iconic Hollywood sign and Los Angeles cityscape set the stage for 632 rooms including 113 spacious suites as well as a full-service spa, rooftop pool and 24-hour fitness center. The hotel is the centerpiece of the Hollywood & Highland Center, where guests have direct access to over 80 shops, 26 restaurants and eateries, 12 bowling lanes, seven movie screens and the newly renamed Dolby Theatre, where the Academy Awards are held.
Like Loews Hollywood Hotel on Facebook: http://www.facebook.com/LoewsHollywoodHotel
About Loews Hotels
Headquartered in New York City, Loews Hotels & Resorts owns and/or operates 19 hotels and resorts in the U.S. and Canada including the newly acquired Loews Madison Hotel located in the heart of Washington at the epicenter of legendary D.C. landmarks and the Loews Boston Back Bay Hotel, one of Boston's preeminent historic buildings, situated on the corner of Berkeley and Stuart Streets. Located in major city centers and resort destinations in North America from coast to coast, the Loews portfolio features one-of-a-kind properties that go beyond Four Diamond standards to delight guests with a supremely comfortable, uniquely local and vibrant travel experience. For reservations or more information about Loews Hotels & Resorts, call 1-800-23-LOEWS or visit: http://www.loewshotels.com.
Like Loews Hotels & Resorts on Facebook: http://www.facebook.com/LoewsHotels
Follow Loews Hotels & Resorts on Twitter: http://www.twitter.com/loews_hotels
Watch Loews Hotels & Resorts on YouTube: http://www.youtube.com/LoewsHotels
Media Contact:
Jennifer Duffy
jduffy(at)loewshotels(dot)com
323-491-1083