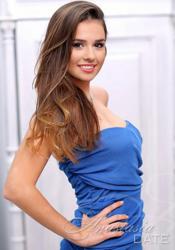 People are important and we have spent twenty years fine tuning our service to what it is today – a high quality dating platform where individuals can safely meet beautiful ladies form all over the world and find the romance they are seeking
(PRWEB) May 15, 2013
AnastasiaDate.com, a popular international online dating site, is celebrating this month. Recently, they were delighted to announce twenty successful years of providing their unique, high quality dating service to members from all over the world.
The company announced they are celebrating their second decade of success after another record month of new membership registrations. It seems that AnastasiaDate.com is set to remain one of the most popular choices amongst people who wish to use online dating to meet people in the hope of finding romantic companionship.
Love is in the air for AnastasiaDate.com on a twenty four hour basis. With over 4 million international members accessing the site over 10 million times a month, they are a very busy team indeed!
Anthony Volpe, who is the Chief Marketing Officer for AnastasiaDate.com, spoke recently of his pride in the success of the company, "We in the executive management team are delighted at the success of our company. Hard work, dedication and a commitment to high quality service is why we are successful. Online dating is a very popular way for people to meet each other these days. People are important and we have spent twenty years fine tuning our service to what it is today – a high quality dating platform where individuals can safely meet beautiful ladies form all over the world and find the romance they are seeking."
Mr Volpe went on to congratulate the entire AnastasiaDate.com team for their hard work and wished them all a very Happy Twentieth Birthday!
AnastasiaDate.com is particularly well known for the huge numbers of charming and beautiful single ladies who have signed up for membership of the service. The company's good reputation as being a quality and safe dating service precedes it. Much of the word of mouth promotion they enjoy is a result of recommendations and information shared on social media like Facebook and Twitter.
The company have succeeded in helping literally millions of their members reach out, meet and connect with suitable singles form all over the globe. Their state of the art website gives members the opportunity to search and browse as well as message, chat and video chat! These are a few of the reasons AnastasiaDate.com is such a popular choice amongst online dating fans on a global scale.
The management team and entire staff now plan to work together to make sure that AnastasiaDate.com will have success for the next twenty years to come. Their plan is simple, they just want to continue to serve their members and help them find romance.
With increasing numbers of ladies signing up for membership, it is little wonder that so many millions of men are finding their perfect partners with this internationally popular dating service. Many congratulations to the entire team. In the current economic climate, which is affecting everyone on a global scale, it is good to see a company that have been around for so many years, continue to enjoy success and growth.
About Anastasia Date
AnastasiaDate is a premium, international dating site helping singles to find romantic companions with beautiful women from all over the globe. The company now enjoy over 4 million international members. Their popular website attracts over 10 million visits per month. AnastasiaDate provide their members with a safe, secure and pleasant online environment for members to meet their romantic partners. The company are known for the high levels of customer service to their international clientele and their state of the art website and social media sites which include video chat and a popular mobile app for Google Play store.