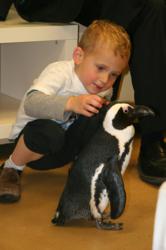 "We are excited for the opportunity to partner with the Denver Zoo," said Daniel Shurz, Frontier Airlines senior vice president, commercial. "As the hometown airline, we are proud to continue to invest in such a family friendly place for our community."
Denver, CO (PRWEB) May 10, 2013
Denver Zoo announced its new partnership with Frontier Airlines. With a recently contracted three year sponsorship agreement, the airline becomes the Exclusive Airline Sponsor of Denver Zoo, supporting animal preservation and conservation. In recognition of Frontier's support, Denver Zoo is renaming its Bird World exhibit, "Bird World, Presented by Frontier," in honor of all creatures that fly. Denver Zoo and Frontier unveiled the recognition at a press event today.
"We are excited for the opportunity to partner with the Denver Zoo," said Daniel Shurz, senior vice president, commercial. "As the hometown airline, we are proud to continue to invest in such a family friendly place for our community."
"We are absolutely thrilled to partner with Frontier Airlines, an airline well known for its love of animals," says Denver Zoo President/CEO Craig Piper. "Both Denver Zoo and Frontier feature animals loved by our community. With the support of a fellow Denver organization dedicated to the local community we look forward to strengthening our conservation efforts for years to come."
The zoo also unveiled its new Penguin Encounter in celebration of the partnership. Frontier Airlines staff and their families were among the first to enjoy the new feature. The experience gives up to eight individuals the chance to explore Bird World with an expert guide, learning about the zoo's bird care and conservation efforts for the species. Each tour will end with a private up-close encounter with a zookeeper and an African penguin. The tour will begin running on a regular basis by the end of May.
Frontier Airlines will also help inspire millions of kids to learn about birds and the wonders of flight by complimenting the experience at Bird World with life-size airplane winglets outside of the building. Here guests can compare how their own "wingspans" measure up to an Airbus A319 airplane and Denver Zoo's favorite birds.
The announcement takes place just a day before the zoo's International Migratory Bird Day celebration, presented by Frontier Airlines. On May 11 the zoo will offer insight into the travels birds must make, over thousands of miles, across continents, through storms and unimaginable odds. Guests will find a variety of education stations and bird demonstrations from Bird World through the zoo's Nurture Trail exhibit encouraging children to "migrate" from activity to activity.