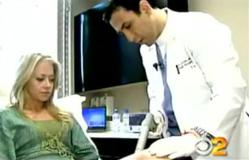 Los Angeles, CA (PRWEB) May 11, 2013
As reported in a May 2, 2013 CBS News article entitled "Troubling Obsession With 'Thigh Gap' Growing Among Women" (Go to goo.gl/7xYsn) some physicians are voicing concern about an apparent fascination among many women with something called the Thigh Gap. When models amble down the catwalk, the Thigh Gap is quite noticeable. They have thin legs and therefore, a visible gap between their thighs.
"I don't ever think it's healthy to base your body image on that of someone who is paid to be beautiful for a living," says Dr. Simon Ourian, Medical Director of Epione Beverly Hills. "Not to disparage the hard work I'm sure many models put in to maintaining their figures, but the fact is they were fortunate to be born tall and skinny."
According to the report, women of all ages are trying to make their bodies conform to this image. Some restrict their eating habits or workout excessively so that they and others can see a gap between their thighs when they walk. Others, however, prefer to leapfrog these processes and take the quicker route offered by plastic surgery. Liposuction targeted at the inner thigh can achieve the gap for many women very quickly.
The article goes on to say that there is nothing unusual about targeting the inner thighs with liposuction. However, some doctors worry that it could be sign of an obsession in some women. Surgeons who perform these surgeries have noticed that this fixation on the inner thigh is something almost entirely restricted to the women who seek the surgery. From what they can tell, men are not as interested in the question of whether or not a woman's thighs touch when she walks.
I agree with one of the physicians quoted in the article," says Dr. Ourian. "What matters is the relationship the patient has with her body, and it's our job as doctors to be aware when a request for surgery indicates this relationship is amiss."
Dr. Ourian has been a pioneer in laser technology and non-invasive aesthetic procedures including Restylane, Juvéderm, Radiesse and Sculptra. These treatments are used for the correction or reversal of a variety of conditions such as acne, acne scars, skin discoloration, wrinkles, stretch marks, varicose veins, cellulite, and others. More information about the thigh gap can be found on Epione's website.