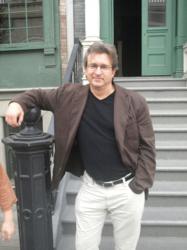 (PRWEB) May 13, 2013
Global Spirit takes a global approach to the exploration of human consciousness, bringing viewers the most compelling ideas, practices and distilled wisdom from different cultures throughout the world. Global Spirit returns to LinkTV on Sunday, May 12 On Sundays, and will continue to air on Sundays at 9pm PT & 9pm ET.
Presented by John Cleese and hosted by author Phil Cousineau, each Global Spirit program offers insight into some of mankind's oldest existential questions, tracing our collective human journey in the timeless quest for truth, wisdom and understanding.
"The discussions on the 'Global Spirit' series are sorely needed in this dispirited and disenchanted world. In many ways it is more important than journalism today." - Bill Moyers
"Each week [Global Spirit] brings together scholars and other experts from different religious and philosophical backgrounds, not to sell a faith or argue hot-button issues, but to discuss universal themes like forgiveness or the nature of the spiritual journey." - New York Times
The Painted Word
A Treasure Chest of Remarkable Words and Their Origins
By Phil Cousineau
Lore for Logophiliacs and Word Hoarders
Deepak Chopra calls author Phil Cousineau a "word wizard" and NPR's Susan Stamberg hailed his Wordcatcher as a must-read "because it's fun." Cousineau, linguistic detective and dictionary delver, is back with a priceless treasury of word stories and literary obscura that will enchant any lover of language. The words themselves range from the commonplace, such as biscuit, a twice-baked cake for Roman soldiers, to loanwords like chaparral, courtesy of Basque shepards who came to the American West; from word-reversals such as silly, which evolved from "holy" to "goofy" in a mere thousand years, and to words well worthy of revival, such as carrytale, a wandering storyteller. Cousineau's journey through the history and mystery of words will enlighten as it delights.
Wordcatcher
An Odyssey into the World of Weird and Wonderful Words
By Phil Cousineau
The world's preeminent mythology scholar explores the mystery and meaning of marvelous words
Who knew that the great country of Canada is named for a mistake? How about "bedswerver," the best Elizabethan insult to hurl at a cheating boyfriend? Author Phil Cousineau explores the obscure territory of word origins with great erudition and endearing curiosity. The English poet W. H. Auden was once asked to teach a poetry class for 20 students. Two hundred applied to study with him. When asked how he chose his students, he said he picked the ones who actually loved words. So too, with this book—it takes a special wordcatcher to create a treasure chest of remarkable words and their origins, and any word lover will relish the stories that Cousineau has discovered.
Phil Cousineau is an award-winning writer and filmmaker, teacher and editor, independent scholar and travel leader, storyteller and TV host. Currently the host of PBS's "Global Spirit" television series, Cousineau has published 26 nonfiction books and has 15 scriptwriting credits to his name. His books have been translated into nine languages. While moonlighting in a steel factory he studied journalism at the University of Detroit. Before turning to writing books and films full-time, Cousineau's peripatetic career included stints as a sportswriter, playing semi-pro basketball in Europe, harvesting date trees on an Israeli kibbutz, painting 44 Victorian houses in San Francisco, and teaching screenwriting at the American Film Institute. For the past 25 years he has enjoyed his life-long dream of being a full-time freelance writer, filmmaker and sports coach.