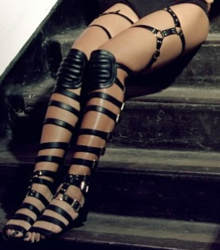 All the technology Google has built into their new "smart shoe" will undoubtedly lead to a flood of new requests for higher-tech footwear.
Guangzhou, China (PRWEB) May 10, 2013
While clearly not meant to start a new fashion trend, Google's most recent high tech "smart shoes" innovation, as reported in the Living Section of this Wednesday's NY Daily News, is seen as sign of more technical demand by shoe manufacturing expert, Winnie Peng of Shoe-Manufacturer.com.
"The launch of Google's new 'Smart Shoes' will certainly raise the bar for incorporating high-tech electronics in footwear," says Peng.
Peng continues:
"While there has been the incorporation of small electronic devices for years, especially for kid's sneakers, of with flashing lights and little push-button recordings, the idea of adding gyroscopes, pressure sensors and accelerometers to footwear represents new challenges for shoe manufacturers.
"As Google has demonstrated, it isn't impossible to go 'high tech' with devices in shoes, but, unfortunately, many shoe factories would prefer to stick to producing just what they are used to making and are reluctant to try new manufacturing methods, but sometimes it's better to go ahead and take the time to work out difficult design challenges because that can make a company better prepared for the future..
"At Shoe-Manufacturer.com, a willingness to work with our designer clients on unusual projects is part of what makes us rather unique as most footwear manufacturers prefer to avoid accepting orders that are out of the ordinary.
"We are fortunate to have a staff with more advanced shoe-tech skills than average who can actually work with innovative designs to produce more specialized footwear.
"Examples of innovations our Athletic Shoes Division has taken on include clear-toed sneakers for Toesy's of New York, all Velcro-type shoes for games, specialized Feestyle Footbag sports shoes for Nucleus Footwear and, on the Traditional Footwear side, high heels with removable heels, sandals with inter-changeable uppers, "double-heel" high heels, special covers for high heels that slip on over the shoe to give a totally new look for Slip-Ons Collection and a super-high platform shoe that received raves at the Australian Fashion Week and was even worn on stage by Lady Gaga.
"Though certainly more time consuming and complicated than conventional shoe manufacturing, taking on these innovations is always a challenge that can lead to new production approaches and more choice for the consumer.
"We congratulate Google for it's thought provoking "internet-connected" shoes, as featured in today's NY Daily News' Living section of the NY Daily News section and hope it will renew interest in more high-tech, innovative footwear."
About:
Winnie Peng is Senior Project Manager and manufacturing
expert at China Product Sourcing and Marketing Ltd. (CPSM),
fashion manufacturer and leading producer of innovative footwear
for independent designers and footwear importers around the world,
Shoe-Manufacturer.com , and previously Senior Inspector of
Quality Control and Corporate Compliance for Best Seller of
Hong Kong, supplier of Europe's largest fashion retail group,
Best Seller.
Contact:
Winnie Peng
email: winnie.chinaproduct(at)gmail.com
Tel (USA) 1- 336-775-8615,
Tel (China) 136-6233-4753
Skype: winniethepooh9
About:
Lexis Global News (LGN) features current items of interest in business, technology, manufacturing, health and wellness, education, fashion, travel and life style.
LGM is a division of Lexis Global Marketing LLC.
http://www.lexisglobalnews.com/
Contact: Robert Allen
Lexis Global News
Tel 1-336-775-8617
Email: featurerseditor@lexisglobalnews.com
Address: 931-B South Main St., Suite 154
Kernersville NC USA 27284