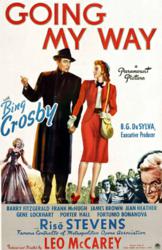 (PRWEB) May 11, 2013
Saturday movies are a family treat at Trinity Broadcasting Network, and on May 18th America's premier faith-and-family channel will feature one of the most beloved classics of the silver screen, "Going My Way," starring Bing Crosby. The winner of an amazing seven Academy Awards, including Best Picture, this rare gem from Hollywood's heyday continues to gain new generations of fans nearly 70 years after its 1944 debut.
Bing Crosby, arguably the most popular actor and singer of the era, garnered a Best Actor Oscar for his portrayal of Father Chuck O'Malley, a young and unconventional Catholic priest sent by the bishop to turn around the failing St. Dominic's church in New York City. But to succeed he must win over the church's senior priest, the staid and traditional Father Fitzgibbon, played by veteran Irish actor Barry Fitzgerald. Amazingly, Fitzgerald was nominated for both Best Actor and Best Supporting Actor, and won the Academy Award in the latter category.
Father O'Malley's friendly manner and genuine empathy not only win over his dour and critical superior, but his hands-on approach to the needs of those around him helps to transform the lives of a young runaway and a group of ragtag neighborhood kids in need of direction, and with the aid of friends from his former life he even saves St. Dominic's from financial ruin.
A legendary master of the American popular song, Bing Crosby used his unmistakeable voice to turn several of the movie's musical numbers into hits, including "Going My Way," the haunting Irish lullaby "Too Ra Loo Ra Loo Ral," and the light-hearted "Swinging on a Star" — which won the Academy Award for Best Song.
"'Going My Way' is a cinema national treasure," said TBN Vice President Matthew Crouch, who is himself a veteran movie producer and director. "It's a film that has it all, from a great story and spectacular cinematography, to stellar acting, unforgettable music, and an inviting warmth that has kept it popular with the public for three generations."
Mr. Crouch added that its themes of faith, integrity, respect for elders, self-sacrifice, and commitment to the needs of others makes "Going My Way" a perfect addition to TBN's archive of family-friendly movies "This is a film that moms, dads, and grandparents will want to share with their children and grandchildren," he said. "We're thrilled to add 'Going My Way' to TBN's movie classics."
The Academy Award Winning Classic 'Going My Way' airs Saturday May 18 at 8 p.m. Pacific (10 p.m. Central, 11 p.m. Eastern) only on the Trinity Broadcasting Network.
For more about TBN and the Trinity Broadcasting Family of Networks, visit us online at http://www.tbn.org.