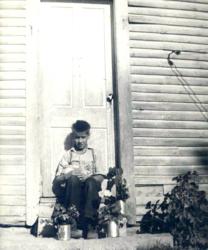 Although I have photos of my parents, I still yearn to call them just to hear their voices. The Legacy Matters DVD allows me the opportunity to provide this for my children
Knoxville, TN (PRWEB) May 15, 2013
At wakes and funerals the scrolling photo slideshow depicting special people and events in a loved one's life has become a standard feature. Imagine though the impact these same photographs can have on family and friends when the deceased tells the story behind each special photo in his or her own voice and personality.
That is what the "Legacy Matters Pict-Oral History Program" is all about. Offered to forward thinking people, funeral homes and mortuaries in affordable pre-need packages, the Program gives voice to the deceased and preserves their legacy for future generations.
"The Program was originally created as a way to help elders transition into an assisted living community," says Tom Cormier, President of LegacyStories.org. "It was only after residents suggested that they would like the pict-oral history slide show played at their funeral that we discovered a whole new niche for this unique service."
The Legacy Matters Program is delivered by a global network of Legacy Advisors who are specifically trained to scan vintage family photos and record the oral narratives.
Advisors help their clients select photos of people and events that made a difference in their life. Then they record oral narratives, combining the audio and photo into a "pict-oral history" slideshow filled with life lessons and precious family history that will otherwise be lost.
The pict-oral slideshow not only can be played on a loop during viewing hours but is also burned onto 300-year archival gold DVDs to provide a timeless and priceless keepsake to be passed down through generations of the family. This unique gift also serves as an integral tool to aid in the family's grief and healing process.
"Although I have photos of my parents, I still yearn to just to hear their voices. The Legacy Matters DVD allows me the opportunity to provide this for my children," Says 71 year-old Leslie Smith from Columbus, Ohio. "I love it that important events in my life are on one small heirloom that can be passed along the generations."
The service is available in 45 states and 5 countries. Advisors are trained and certified in new locations on an as needed basis.
ABOUT LEGACYSTORIES.ORG: Founded in 2008, the cloud-secured family history library provides tools, training, support and multi-media story options to preserve valuable life stories for the benefit of research, education and family enrichment.
The website recently became the first web application certified by FamilySearch, the world's largest genealogical organization, to link stories, audios and photographs to over 3.5 billion ancestors in the official Family Tree of humankind.
ABOUT I-ASK: The International Association of StoryKeepers (I-ASK), is a network of family history enthusiasts and professionals who are trained as Certified Legacy Advisors to preserve the living history of our time.