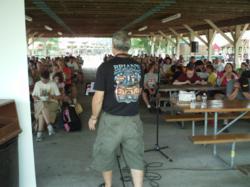 KISS WHAT? Is a must read for every teenager who professes faith in God!
Canandaigua, New York (PRWEB) May 15, 2013
Respected author, youth communicator and defender of the Christian faith, Josh McDowell claims in his book, 'The Last Christian Generation', "Between 69% and 94% of young people are leaving the traditional church after high school and very few are returning. Kids are departing from the faith of their fathers and mothers. No more than 4% difference between the attitudes and actions of professing Christian youth and non-Christian youth."
This is alarming! Youth communicator and former rock star, Nick Costello has discovered in 20 years of ministry to youth, many professed born-again young people believe in Christ, but they don't reflect Christlike attitudes and actions.
In his new book, 'KISS WHAT?', Nick draws from the lives of 3 young champions for God, Shadrach, Meshach and Adednego in the Bible, to help kids understand what a true worshiper of God should look like. The number one decision every true believer should make is to live an uncompromising life of obedience to God at all cost.
In 'KISS WHAT?', today's youth will learn how to resist peer pressure, live out their faith before others, walk out their faith in a way that brings honor and glory to God.
Click and view book trailer here.
Nick shares his personal life struggles and the wisdom he has learned in his life journey with God, hoping teenagers will be encouraged and inspired to become the person God has designed them to be.
Nick Costello is a graduate of the Billy Graham North American Institute For Emerging Evangelists, an ordained minister, author, youth communicator and popular conference speaker.
Visit his website for testimonies and more info.