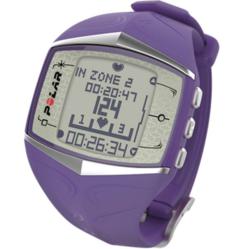 With the Polar Star Trainer it is like having a personal trainer on your wrist
Bozeman, MT (PRWEB) May 11, 2013
Polar has just introduced a new Polar FT60 lilac for women according to the Heart Rate Watch Company.
"The Polar FT60 is one of the most reliable and dependable heart rate monitors and offers many advanced features", says Rusty Squire, President of the Heart Rate Watch Company. He adds, "With the Polar Star Trainer it is like having a personal trainer on your wrist".
FEATURES
The Polar FT60 offers both calories total and calories from fat along with a fitness test that helps determine the current fitness level. "It also has Polar OwnZone which guides you to train at the right intensity depending upon your physiological state", says Squire.
The Polar FT60 also pairs with the Polar G1 GPS sensor and the Polar S1 foot pod to offer speed and distance data for cycling and running. "It's really a very advanced heart rate monitor and one of the very best available anywhere in the marketplace for under $150", says Squire.
Polar FT60 lilac also includes the new Polar H1 transmitter and the Polar soft strap chest strap. "The new soft strap is great and one of the most comfortable heart rate straps we have ever tested", says Squire. He adds, "The H1 transmitter is also sleeker and thinner than the previous Wearlink version".
"HeartTouch button-free operation of the wrist unit allows you to change screens to see time and date without having to touch any buttons", says Squire.
The new Polar FT60 for women in lilac is now available at the Heart Rate Watch Company, an authorized Polar dealer.