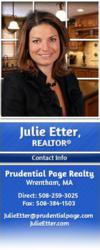 Wrentham, MA (PRWEB) May 17, 2013
Julie is a very conservative person when it comes to business. She only makes commitments if she is positive she can fully carry them out. People may find this a little radical, but if clients her clients are guaranteed a short 47 day selling experience, they can't go wrong. Sellers and buyers alike benefit from this phenomenal promise.
Julie literally can't keep houses on the market right now. Property values are jumping and there are far more buyers than sellers. Not to mention, interest rates are still at 50 year lows. If anyone has been thinking of selling, now is absolutely the time to do so. An amazing atmosphere has been created in the market that has never been seen before and there just simply aren't enough homes to sell. For more information visit http://www.julieetter.com.
About Julie Etter:
Julie is an honest and reputable agent, backed by an honest and reputable company. She ensures your comfort and success with the entire home selling process. Julie is committed to ensuring that your real estate goals are met. Her job is to market your home effectively and sell it quickly. She takes pride in her ability to lead and educate home sellers through the process, ensuring your comfort and confidence from the initial meeting until closing... and beyond.
Julie is a lifelong Massachusetts resident and has sold real estate in the Bristol, Norfolk and Worcester counties where she was named Top Agent, for Prudential Page Realty in Wrentham, MA. Her family has been in the real estate business for over 20 years and, as a result, Julie has been exposed to the business for much of her life. She has extensive experience in buying, selling and renting both residential and commercial properties.