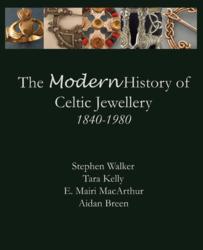 Even when the modern designer creates something new and original, if that creation is done in the traditional style, our cultural inclination treats it as if it is already old
Andover, NY (PRWEB) May 14, 2013
Walker Metalsmiths announces the release of The Modern History of Celtic Jewellery; 1840-1980. The book contains chapters by two historians, Mairi MacArthur from Scotland and Tara Kelly from Ireland, as well as an American Celtic jeweler, Stephen Walker and Irish silversmith and jewelry maker Aidan Breen.
Originally conceived as the illustrated catalog for an exhibition of the same name, the book examines both Scottish and Irish jewelry from the 19th century Celtic Revival through more recent developments in the 20th century. The traditions of interlaced "endless knot" designs, ringed Celtic crosses, spirals and abstract animal motifs can be traced back to early medieval styles. The glorious artistic accomplishments created by Celtic craftsmen more than a thousand years ago, such as the Book of Kells and the Tara Brooch, became the source of inspiration for modern designers.
There has been resurgence of popularity for Celtic jewelry in the past twenty years. Contemporary consumers understand it as many things, from souvenirs of vacations or festivals, as reproductions of ancient artifacts and as heirlooms in a traditional style that express their family heritage. Stephen Walker states in his introduction, "Even when the modern designer creates something new and original, if that creation is done in the traditional style, our cultural inclination treats it as if it is already old, and that its authenticity must flow from a prototype in the past. Despite the fact that the truly fluent use of Celtic design and ornament is creative and original, the habit of viewing it all as something ancient is a strong one."
The book is a long overdue examination of the recent history of Celtic jewelry. The authors examine the craftsmen and entrepreneurs who have, in modern times, restored and added to this living artistic tradition.
Aidan Breen writes an autobiographical account of his career that began with a traditional apprenticeship in 1959 with old school Dublin silversmiths and tells of how his Celtic design jewelry caught on as just as he made the transition from working as a chaser for the firm Irish Silver to being an independent designer-craftsman.
Mairi MacArthur tells the story of how Alexander and Euphemia Ritchie set up their own cottage enterprise on the Scottish isle of Iona in 1899. The Ritchie's company Iona Celtic Art not only established the style of Scottish Celtic jewelry for the next century, but also served as a model for island and rural based craft business that is still widely followed.
Tara Kelly gives an account of Victorian manufacture and marketing of facsimiles and reproductions of Irish archeological artifacts, such as the "Tara" Brooch beginning in the 1840s. This activity brought the splendid artistic achievements of the past to a wide, middle class audience, through commercial promotion.
Stephen Walker ties the story together by following the progression from the Celtic design tradition of Scottish warriors, preserved in the styles of ornate weapons. He follows the survival and expression of the Celtic cross as jewelry and the Arts and Crafts Movement influence on Celtic design.
The 74-page color illustrated book is available on Amazon.com for $16.95 paperback. Limited edition hardbound copies for $29.95 are available exclusively at Walker Metalsmiths two locations, at 1 Main Street, Andover, NY and at 140 Packets Landing, Fairport, NY. The exhibition of over 70 historical pieces that are illustrated in the book will be on display until June 2 at the Fairport location. For further information call 1-800-488-6347.
Walker Metalsmiths is a family-run jewelry design workshop specializing in Celtic rings, crosses and other jewelry in gold and silver. Established in Andover, NY in 1984, Walker Metalsmiths now operates a second store in Fairport, NY and has been a leader in Celtic jewelry sales by mail-order and on the internet since the 1990s. In recent years, founder Stephen Walker has been increasingly recognized as a researcher and author on historical Celtic art and craftsmanship.