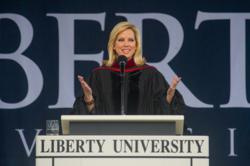 Lynchburg, VA (PRWEB) May 11, 2013
It was a historic day for Liberty University as it celebrated its 40th Commencement, featuring the largest graduating class to date, more than 15,000 strong — about 1,000 more than last year. Over 7,000 graduates participated in Saturday's Commencement exercises at Williams Stadium.
Anyone familiar with Liberty's history couldn't help but be amazed as Chancellor Jerry Falwell, Jr. announced the university surpassed 100,000 in total enrollment this week, a monumental testament to the vision of his father, Liberty founder Dr. Jerry Falwell, Sr. This feat was accomplished largely by Liberty's booming online education program, which made up more than 80 percent of the graduating class.
For the first time, Liberty welcomed one of its own as the keynote speaker for the main Commencement ceremony — Fox News reporter Shannon Bream ('93), the first graduate to be the featured speaker since Liberty became an accredited university in 1980 and the first female Commencement speaker.
Bream recalled her graduation 20 years ago and hearing about Falwell, Sr.'s vision for Liberty's future.
"It is thrilling to see how far God has brought Liberty in just 40 years, and also to hear the vision for where it is going to go. … Liberty is a place like no other," she said.
As Chancellor Falwell addressed the crowd, he spoke of where Liberty is today, and where it is headed. He announced that Liberty's new College of Osteopathic Medicine — set to matriculate its first class in Fall 2014 — has received provisional accreditation, a necessary step in moving forward. Falwell echoed what he announced last year and what the Washington Post reported: that Liberty stands on a solid foundation of more than $1 billion in net assets, an accomplishment unprecedented for such a young institution. His father's goal, which Chancellor Falwell now carries forward, is that Liberty will achieve national prominence in academics and athletics but never sway from its Christian foundation, like so many other institutions have. This financial strength ensures Liberty will remain true to this mission for generations to come.
For their positive attitude and patience during a time of many changes, including a number of major construction projects, Chancellor Falwell thanked the graduates as the university prepares to train more generations as Champions for Christ, with a "greatly enhanced student experience."
He introduced a few special guests in attendance at Commencement, including alumnus Sid Bream, former professional baseball player, and Cole Withrow, a high school senior who will be attending Liberty in the fall. Withrow, an honors student, has received tremendous support from Falwell and the university after he made news headlines recently when he was arrested for leaving his shotgun in his truck in the school parking lot but did the right thing by immediately calling his mother for help.
Several special honors were given at Commencement, including the Chancellor's Awards for Excellence in Teaching, followed by a brief address from Baccalaureate speaker Dr. Ravi Zacharias.
Falwell then introduced Bream and bestowed on her an honorary degree for her efforts on the "frontlines" of some the most prominent court cases today — many which will likely chart the course of the United States for generations, he said.
"In a time where most news networks pick and choose the headlines to advance their agendas, reporters like Shannon Bream hold high the banner of what journalism was meant to be — and what it is still taught to be at this university — service to the public marked by its objectivity and truthfulness," Falwell said.
As Bream addressed the graduating class, she challenged them to go forward proclaiming truth and delivering compassion to the world around them.
She told them they are not to live a "watered-down version" of the truth but to live boldly and unapologetically, like Jesus Christ did. That is the kind of life Dr. Falwell would "expect his Liberty grads to live."
"You are heading out into the world with your ambitions and hopes and dreams at a critical time," Bream said. "There is a lot of uncertainty, there is fear, and those who would like to create chaos and take innocent lives. ... You will need to be strong, principled, and brave. And having earned an education that emphasizes not only facts and figures, but also absolute truths — I know you are ready.
"Now is not the time to stand silently by as your most deeply held beliefs are being questioned in the public square. Speaking up is rarely easy when the world is actively waiting to discredit and misconstrue what you have to say — but we have Christ as our model."
She recalled her time at Liberty where she had the opportunity to go on a mission trip to Brazil. This experience helped open her eyes to the physical needs of others.
"In order for people to care about the message of God's love, they first have to believe that you — the messenger — care about them," Bream said.
During her speech Bream talked about some of the challenges she faced in achieving her dream of working full time in television news, including moments when she was discouraged or actively opposed.
During these times she found strength in the truth that God's grace is sufficient, that His power is made perfect in weakness.
"There will be joyous successes and beautiful families. There will be challenges and times when your burdens feel unbearable," she told the graduates. "But we know nothing is a surprise to the Lord. He has already woven a stunning tapestry of your life, but it's one you'll only get to experience a single thread at a time. It will require trust and patience and walking very close to Him. That is what we are called to do."
About Liberty University
Liberty University, founded in 1971, is the largest private, non-profit university in the nation, the largest university in Virginia, and the largest Christian university in the world. More than 100,000 students attend classes on its 6,800-acre residential campus and study in its thriving online education program.