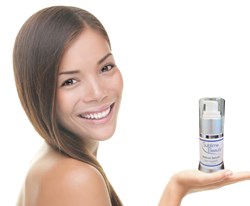 Retinol is a super-star product in the skin care world...The new Retinol serum from Sublime Beauty ® is silky to the touch and effective.
St. Petersburg, FL (PRWEB) May 14, 2013
The introductory offer of 20% off of the new Retinol Serum from Sublime Beauty® continues this week to Saturday night. "I am so convinced men and women will love this formulation that I am happy to offer a reduction this week," says Kathy Heshelow, founder of Sublime Beauty®. The company focuses on quality anti-aging skin care.
"Some of our favorite products are the serums," says Heshelow. "Our retinol serum ("Retinol Serum | Skin Support") stands out thanks to the non-irritating yet strong formulation that shows results. We also offer a great Collagen serum which is incredibly refreshing and a purely organic Rich Facial Oil (my absolute favorite!) to nourish dry and aging skin."
Retinol is a super-star product in the skin care world. It started to be used widely back in the 1970s to treat acne, and was soon discovered to have the right qualities for antiaging products. Retinol encourages skin renewal, collagen production and helps to slough off layers of skin that hold fine lines and wrinkles. The combination of affects on the skin is a net positive!
Some people are sensitive to Retinol, so Heshelow worked with manufacturers on a formulation that would be milder yet at the 10% of retinol content that is prescribed as effective.
The 20% Off Introductory offer is in place this week only. Use the code TWENTYIN (which stands for 20% introductory) at checkout.
About Sublime Beauty®
An anti-aging skin care company, Sublime Beauty works with quality U.S. manufacturers. Many of the products are organic, most are paraben free and all are carefully chosen for powerful anti-aging qualities.