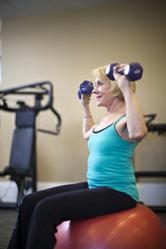 At Vi, we like to say boredom is not an option, and this is especially true on this special day. - Bill Sciortino, Senior Vice President of Operations at Vi
Chicago, IL (PRWEB) May 15, 2013
Held each year on the last Wednesday in May, Senior Health and Fitness Day has become a tradition at many Vi communities, as well as a great way to bring attention to the importance of physical activity as residents age.
"At Vi, we like to say boredom is not an option, and this is especially true on this special day," said Bill Sciortino, Senior Vice President of Operations at Vi.
Organized as a public/private good health partnership by the Mature Market Resource Center (MMRC), National Senior Health and Fitness Day participants cover more than 1,000 locations across the country, including hospitals, parks and recreation departments, senior centers, health clubs and many other community locations.
Each Vi community takes Senior Health and Fitness Day as a way to promote ongoing lifestyle, health and wellness activities. But many communities use the day as a way to think outside of the usual day to day activities and showcase truly unique opportunities.
For instance at Vi at Highlands Ranch, Lifestyle Director Jeanne Adams creates a schedule of events that includes guest speakers, meditation sessions, and even a smoothie social where residents can sample smoothies and learn more about how to make the popular drink.
"Most of our residents already have exercise routines they enjoy so we look at Senior Health and Fitness Day as an opportunity to enhance the daily activities of our residents," Adams said.
Many other Vi communities also get in on the Senior Health and Fitness Day action including Vi at Lakeside Village in Lantana, Florida.
"Our goal is to make the day fun and different," said Tamara Sawicz, Lifestyle Director of Vi at Lakeside Village. "Our community is extremely interested in exercise so this day is really just a day to reinforce our total wellness approach."
While this is Tamara's first official Senior Health and Fitness Day with Vi at Lakeside Village, she has an extensive schedule of events prepared for residents including meditation, wellness walks, brain challenges, healthy cooking demos, and putting challenges. But perhaps the best event is breakfast and a walk on the beach with Vi at Lakeside Village Executive Director, Penny Smith.
"We think this will be pretty popular with our residents and the sign-ups will go quickly," Tamara said.
Whether it's brain challenges, manicures, or putting contests, the overall goal at all 10 Vi communities is to turn the events of Senior Health and Fitness Day into an opportunity to focus events on a complete wellness strategy that includes mental, physical and spiritual wellness.
Learn more about Aging Well at Vi.
About Vi
For more than 25 years, Vi has blurred the line between retirement and resort. Our continuing care retirement communities (CCRCs) provide refined environments, upscale living, service and amenities and the option for care should you need it. Founded in 1987, Vi currently operates 10 CCRCs nationwide. Find out more about Vi today.