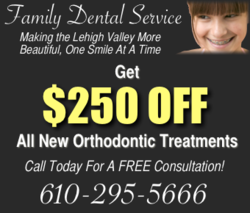 We offer several dental services including general and cosmetic dentistry, as well as orthodontics, conveniently under one roof.
Allentown, PA (PRWEB) May 22, 2013
Family Dental Service announced today that they are offering $250 discount off any new orthodontic service, which will run for the next six months, giving new patients the opportunity to get affordable orthodontic treatment. The dentist in Allentown PA has been established for over 25 years, and the people of Allentown have warmly embraced the dentists, orthodontists, and their services, which have largely contributed to their long-term success. According to the owner of Family Dental Service, this $250 discount is a way of providing new patients the opportunity to get their orthodontic needs serviced at a more affordable price. Dr. David Bordonaro explained today the rationale behind this initiative,
"Over 25 years ago, we started off as another small dentist in Allentown PA. Fast forward to today, and we're still here. We were quick to adapt to new circumstances, and the people of Allentown have always supported us with their trust in our services. This offer we're running for the next several months, is indeed, a very tiny way to pay back the community that's been supporting us for so many years. This is an opportunity for us to reach out to new patients that could benefit from our orthodontic services."
According to Dr. Bordonaro, orthodontic treatment has long been just one of the family services provided among the already comprehensive list of services the company provides. Apart from endodontics, cosmetic dentistry, as well as general dentistry and routine cleanings, Family Dental Service offers first-rate orthodontic services from their in-house orthodontist Allentown PA. This wide variety of services allows them to be a dental facility where all of a family's needs can be accommodated under one single roof. In addition to the $250 discount, the company offers a free consultation to any orthodontic patients who are considering a new treatment plan.
Dr. Bordonaro emphasized how Family Dental Service uses the latest technologies, including Invisalign, and efficient strategies in orthodontics to offer patients the most convenient solution tailored to their circumstances. Dr. David Bordonaro, also explained that Family Dental Service also offers financing options for their orthodontic services allowing those patients who truly need the services, to get the procedures done today but pay for them over time at a payment that fits their budget.
Fervent proponents of beautiful smiles, the company, with this discount, is hoping to give people an incentive to finally take action to address their orthodontic needs and attain a confident smile.
About Family Dental Service:
Dentist Allentown PA, Family Dental Service, has been providing first-class services to the patients of Allentown, PA and other areas of the Lehigh Valley. Equipped with exceptionally skillful dentists, cutting-edge dental technologies and a heart-warming smile, the Family Dental Service staff has served Allentown for over 25 years. The company specializes in a wide variety of services including cosmetic dentistry and orthodontics. For a FREE consultation, give them a call at 610-295-5666.