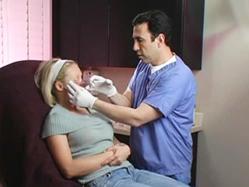 Los Angeles, CA (PRWEB) May 12, 2013
A May 9, 2013 report posted on the website of News 4, Reno, Nevada's NBC affiliate entitled: "Fact Finder Goes Undercover to Expose Illegal Botox Operation" details the station's sting operation to catch a woman who, without a medical license of any kind, provides Botox injections out of her home. (go to: goo.gl/eNSjr). The station initiated the undercover operation after receiving several viewer requests to investigate the woman who'd been the subject of previous complaints in Las Vegas and Reno.
"I know this type of thing is happening in Los Angeles on a daily basis," says Dr. Simon Ourian, Medical Director of Epione Beverly Hills. "I'd like to issue a call for anyone harmed by an unlicensed practitioner in Los Angeles to come forward and report this to the authorities and also to our local news affiliates. The authorities don't always have the funds to pursue every lead but the local news is always looking for stories that benefit the viewing public."
According to the report, the woman in Reno offered to perform a Botox treatment on the show's producer. The woman's selling point was simply that she'd charge less than half what a licensed physician would for the same treatment. While the Nevada State Medical Board is quoted in the report as saying this is the illegal practice of medicine, the matter falls out of their jurisdiction because they're only authorized to regulate licensed medical professionals.
"One of the first things I'd question is the authenticity of the product this woman is injecting," says Dr. Ourian. "Allergan, Inc., the manufacturer of Botox, is only permitted to sell this prescription medication to physicians. So this woman is either injecting an unapproved version of Botox or some other substance altogether."
Dr. Ourian has been a pioneer in laser technology and non-invasive aesthetic procedures including Restylane, Juvéderm, Radiesse and Sculptra. These treatments are used for the correction or reversal of a variety of conditions such as acne, acne scars, skin discoloration, wrinkles, stretch marks, varicose veins, cellulite, and others. More information about Botox can be found on Epione's website.