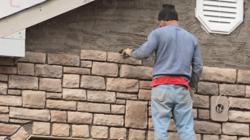 high quality stone veneer product which will enhance the look and value of homes and commercial buildings alike
Minneapolis, MN (PRWEB) May 12, 2013
Bloomington Minnesota office space Tenant announces landing a large project with Sante Fe Cattle Company. TriLite Stone manufactures a decorative stone designed to replicate natural stone at a fraction of the cost. TriLite Stone can be used on the exterior of homes and buildings or in the interior to finish a fireplace or wine room.
The Santa Fe Cattle Company is a southwestern style restaurant chain which, "likes to keep things simple." They have over 15 restaurants throughout the southernmost states with five currently in Louisiana. TriLite Stone will be providing stonework for the Louisiana locations.
"We (TriLite Stone) provide a high quality stone veneer product which will enhance the look and value of homes and commercial buildings alike. Our efficient manufacturing processes really allow us to deliver these products at a price that's hard for our competitors to match," says Len Przybylski, President of TriLite Stone Company.
TriLite Stone integrates their color all the way through the stone, rather than just coloring the surface of the stone. If the stone is ever chipped or scratched, the base color matches the stone rather than white cement underneath, ensuring the stone will retain color.
"We also provide a custom design division, which can color match a stone for added customization. And we have also been approved for multiple historical restoration projects," says Przybylski.
TriLite Stone has a 50,000 square foot manufacturing facility in Howard Lake, MN, where they service dealers and distributors who are primarily located in the mid-west, south and Canada. The opening of their sales office in the 10740 Bloomington Office Space is the result of increasing requests for sales support in the Minnesota market.
For more information,
TriLite Stone Company
1216-2B West 96th Street
Bloomington MN, 55431
888-786-6626
TriLite Stone displays multiple samples of their stonework at their suburban Minneapolis office space location as well at their showroom in Howard Lake, MN.
JGM Properties has been working with businesses for over 33 years. JGM has two-hundred plus Minnesota commercial real estate tenants renting office, warehouse, and retail space in the Minneapolis and St Paul metro area in Minnesota . JGM Properties owns and manages the 10740 Lyndale Avenue South office space, as well as 12 other suburban Minneapolis warehouse space, retail, and office space properties.