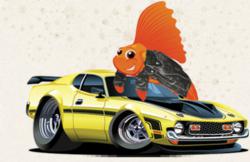 It doesn't seem that VantageScore is doing this to be 'nice,' or for sympathy, but rather from what I've seen they are making the change because they have data proving that a paid collections account won't tell a lender very much about a consumer.
New York, NY (PRWEB) May 12, 2013
RoadFish.com men's lifestyle and finance magazine today released their observations on a new course of action that VantageScore is taking by not including collections reports, so long as they have been paid off, on consumer credit reports. RoadFish.com believes that this is a good policy, however warns consumers that checking credit reports one to three times a year is still the best way to ensure that there have not been mistakes made, especially medical billing errors.
Tara Siegel Bernard of the New York Times reported on May 3rd, 2013 that VantageScore Solutions, one of the major credit score generators in the U.S., has opted to move forward with a new strategy which will exclude collections actions on consumer credit reports, so long as the collections have been paid off. The article states that over half of all collections actions on credit reports are medical-debt related. Bernard reports that this could make a big difference in the credit scores of many consumers, namely on the nearly 7 million Americans who reported that a billing error caused them to be wrongly contacted in 2012 by a collections agency.
RoadFish.com is supportive of the new policy, but offers a word of warning to consumers that they still be vigilant in checking their credit reports for errors made by medical billers or others. RoadFish.com's Senior staff writer is quoted as saying, "It's all well and good for this one credit score generator to nix any collections actions that have been paid, but what about the other generators? Consumers need to keep in mind that the most surefire way to be on top of what is actually happening to your credit is by checking your credit report one to three times per year. It's free, people! Mistakes do happen, and billers are humans who do goof up from time to time. So it's important to not simply rely on a system or a new policy to take care of leaving paid collections actions off consumer credit reports. We need to hold ourselves accountable and do the legwork ourselves."
According to the above-mentioned New York Times article, a medical bill that began as a charge of $742 snowballed into costing an elementary school assistant principal $33,000 after it negatively affected her credit score and she didn't land as low of a mortgage interest rate as she otherwise would have. The medial bill had gone to collections, and the collections action appeared on her credit report—which was clean except for this claim—as a big black mark, dragging down the score. This consumer reportedly had no knowledge of the blip, but will pay $94 extra dollars each month for the 30-year life of her mortgage on account of a lowered interest rate, one that would have been higher if not for her marred credit report over one collections action.
RoadFish.com did commend VantageScore on altering its policy based on solid research. RoadFish.com's Senior staff writer was quoted as saying, "It doesn't seem that VantageScore is doing this to be 'nice,' or for sympathy, but rather from what I've seen they are making the change because they have data proving that a paid collections account won't tell a lender very much about a consumer. I read that VantageScore discovered that paid collections are far less accurate of a tool for forecasting how a consumer will deal with debt going forward than things like life and size of a loan, or length of an open credit account. These are the things that really hold weight in helping lenders predict how a borrower will treat a loan."
The Times article includes a quote from Gerri Detweiler, a credit expert with Credit.com, who stated, "While it doesn't seem like an isolated collection account should have a significant impact on your scores, it can. We've heard from so many people over the years who thought that paying a collection account would help their credit scores. They were shocked to learn it didn't. It feels terribly unfair to consumers not to feel like they are getting credit for doing the right thing." Detweiler supports the new legislation.
About RoadFish.com:
RoadFish.com is an online magazine featuring articles about lifestyle and finance topics of interest to men in their 30's and 40's. The publication focuses on pieces that will intrigue and inspire men who have already achieved some life successes and are questing for more. RoadFish.com's content includes articles on men's fashion, hot chicks, online dating reviews, and restaurant reviews. Financial topics tend to offer credit and debt advice and current financial news, such as the effect Hurricane Sandy had on victims' credit scores. RoadFish.com is owned and operated by Purpose, Inc.