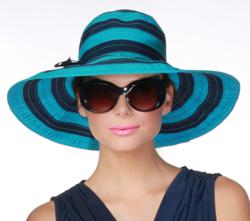 Stylish sun hats are an important part of woman's line of defense against skin cancers, premature aging and other damaging results from the sun
Kentfield, California (PRWEB) May 12, 2013
SolEscapes.com offers a fabulous selection of sun protection hats for the beach and beyond. As an appreciation for all ladies whether a mother, sister or daughter SolEscapes is offering free shipping on all its sun protection hats May 12 through May 18. Coupon Code FSM13.
As the temperatures are heating up throughout the country and the sun is getting stronger it is becoming even more important to shield the delicate skin from the potentially harmful rays of the sun. Stylish sun hats are an important part of a woman's line of defense against skin cancer, premature aging and other damaging results from the sun. Other preventative measures are to stay out of the sun during the middle of the day when the sun is at its strongest and to use a high quality natural sunscreen. The Environmental Working Group (EWG) keeps a great list of all the sunscreens and their safety ratings.
What makes for a good sun protection hat? For best sun protection, ladies should look for a wide brimmed sun hat with a brim size larger than 3.5 inches. It should ideally have been independently tested and rated for 50+ UPF. This simply means the fabric of the hat has been approved to block out 98% of the ultraviolet sun rays. All of the maximum sun protection hats that SolEscapes carries have chemical free sun protection. The sun screening is achieved through the thickness and weave of the fabric.
Some customer favorites are:
Yin & Yang – A 5" brim two-toned sun hat with an adjustable head size. It comes in 5 great color combinations (navy/cream, black/cream, brown/cream, fuchsia/red and turquoise/navy). This classic striped hat is a great addition to any summer wardrobe.
Belle Large Brim Hat – A chic modern 6" brim sun hat made of 100% cotton with an adjustable inner draw string. This picture hat can be dressed up or down depending on the occasion. Comes in black, khaki and white.
Forget-me-knot – A wonderful linen blend/straw combination hat with fabric flower trim. Brim measures 4.5" and it comes in black, white, apple green and taupe. This bucket hat can easily be packed in a purse.
Pitch Perfect – A great paper straw hat with an asymmetrical brim and a pretty bow detail. This versatile hat works great for everyday use, beach, pool or golf. Comes in aqua, pink metallic, white, brown/natural and brown/black.
SolEscapes is a California based online boutique offering a unique selection of stylish and practical sun, beach and resort essentials for all your warm weather needs. SolEscapes offers personalized service, high quality products and fast affordable shipping. Merchandise including all beach hats is carefully and beautifully packaged to ensure a perfect arrival. For more information please visit SolEscapes.com. You can also connect with SolEscapes on Facebook, Twitter and Pinterest.