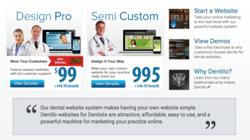 All our dental websites are created to offer content management tools that can be easily used by dentists to modify and update the content on the website and content on the website is also search engine optimized.
ANN ARBOR, MI (PRWEB) May 13, 2013
Revenue maximization as well as increase in awareness about a dental clinic has just got more affordable with the DesignPro Websites May offer by Dentilo. The renowned dental websites development and designing company is creating DesignPro Websites for $99. The offer is exclusively available during the month of May to all the customers. DesignPro websites are designed to be extremely user friendly and are easy to navigate. High quality images and animation make these websites interesting and help in engaging and retaining the interest of visitors.
Speaking about the latest discount deal, a senior executive from Dentilo stated, "We want dental experts to reach out to a large number of patients and the DesignPro Websites May offer is an attempt to succeed in our mission."
Dentilo aims at promoting dental healthcare by creating websites for dentists. Content on the website is also search engine optimized in order to ensure that the website enjoys a good ranking in search results. Custom designed websites offered by Dentilo ensure that every dental practice has its own unique website. Link building tools help in linking the dental website to leading search engines and is done by professional web designers at Dentilo
Talking about lead generation tools, a senior official from Dentilo commented, "Unique website system created by Dentilo prompts prospective patients visiting the website to fill in forms and share their contact details." This information can be used to send out specific mailers to prospective clients about the services offered. Follow-ups can also be easily done by dentists using systems available on the dental website.
Dentilo is one of the most recommended website designing and development firms by dentist. Web design of the site can be customized by the team of experts as per the requirement of the client. Online scheduling system is also available on the website and helps patients to easily get an appointment. All the custom dental website design services are provided by Dentilo at extremely affordable prices and are extremely beneficial for the growth of the business.
About Dentilo:
Dentilo offers professional web designing services that are specifically tailored to suit the needs of dentists. Dental practices can easily be marketed through the internet with the help of unique and attractive websites created by the experienced team at Dentilo. Numerous design options for a website can be explored by visiting http://www.dentilo.com. Link building and search engine optimized content helps in attracting more visitors to the website and helps in effectively marketing the dental practice over the internet.