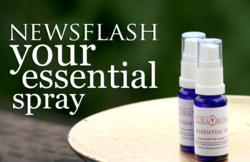 The unique Essential Spray forms an integral part of the protocol completing Cura Romana's no-hunger weight loss, which for many ends a lifetime struggle with dieting often enhancing health in medically measurable ways.
San Francisco, California (PRWEB) May 15, 2013
Cura Romana shares important information for clients worldwide about the Cura Romana Essential Spray. It's especially important for those who have been ordering Essential Spray from amazon.com and amazon.co.uk. Despite the long and excellent relationship with Amazon we have just been told that, due to a change in their policies, they will no longer be selling the Essential Spray on amazon.com or amazon.co.uk. They will, of course continue to sell the original Cura Romana Weightloss Plan book.
HOW TO BUY ESSENTIAL SPRAY NOW
Now, as always, Essential Spray can be ordered online at curaromana.com. Orders ship worldwide—FAST. Thanks to reliable and efficient channels of distribution. The supplier in the UK covers all of Europe, The United States, Canada and the rest of the Northern Hemisphere including the Middle East. The supplier in New Zealand ships to all of the Southern Hemisphere including New Zealand, Australia, South Africa, and South America. Place all orders at http://www.curaromana.com
THANKS TO EVERYONE
Although it's sad to see the Essential Spray leave Amazon, thanks goes to all who have ordered in the past for their loyalty, their enthusiasm and their having left such great reviews about Essential Spray for the past two years. They also created a 100% positive feedback record for Cura Romana. Now the Essential Spray is quickly and easily available sent to anywhere in the world direct from Leslie Kenton's Cura Romana http://www.curaromana.com.
EXCITING ANNOUNCEMENT
Meanwhile Cura Romana has some great news to share with you. Soon Leslie Kenton's brand new book about Cura Romana will be ready for purchase. Here's how this came about. The online day-by-day guided programs—The Cura Romana Journey Program and The Inner Circle Gold—have developed beyond all expectations since the original Cura Romana Weightloss Plan was first published in January 2011. The programs have become easier than ever to follow, more efficient, more health-enhancing—even more fun to do. Consolidation has really come into its own thanks to the new approaches, tools and techniques introduced to make improved health, emotional balance and a new leaner body something that lasts. All of these new benefits, and more where developed, thanks to all the help received from many wonderful men and women who have done the online programs.
WONDERFUL PUBLISHER
The more Cura Romana has come of age, with all it's new developments, the more certain the company became that a new book was needed urgently to encompass them. The publisher agreed wholeheartedly that they needed to be shared with our readers. So Leslie Kenton set to work to create a NEW CURA ROMANA WEIGHTLOSS PLAN. She submitted the manuscript to the Random House team who are now busy creating the design for the new book, proofing and formatting it. It will be published this summer both as a printed book under Corgi imprint and as an electronic e-book for lovers of electronic reading. Watch this space for exact publication date. In the mean time everyone can order the Essential Spray here.