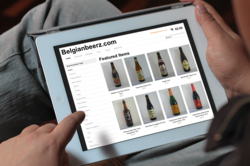 We view it as our task to offer our customers alternatives to the famous beer brands and promote beers from smaller Belgian breweries
Leuven, Belgium (PRWEB) May 16, 2013
Belgianbeerz unveils its top-10 list of BBQ beers for this summer. This list is intended for people who want to discover some new Belgian beers, from smaller and less known breweries. Beers that are perfect to drink on a hot summer day.
"We noticed that our customers often ask us to recommend them certain beers. When they buy Belgian beer online, they want to try out new beers and find alternatives to those they already know," says business owner Lode Devlieghere. "With the hot summer days around the corner, we thought it to be a good moment to give them an entire list of beers that are perfect to drink on a hot summer day. Whether you are having a barbecue, or just having beer with your friends, the beers on this list will definitely impress your guests."
"We have opted for light and easily digestible beers, mostly from smaller and less known Belgian breweries, in order to let our customers really discover something new. As a Belgian beer shop with visitors from all over the world, we view it as our task to offer them alternatives to the famous beer brands and promote beers from smaller Belgian breweries."
The list contains mainly beers that are light and easily digestible, and which are at their best when served ice-cold. "We have tried to put as many different types of beers in this list as possible, so that everyone will find something that he or she likes. The list contains blond beers of different strengths and flavors, white beer, lambic beer, saison beer, amber beer and even a dark beer."
Here is the list (in no particular order):
1. Wolf 7 is a blond beer that is quickly gaining popularity in Belgium and abroad, but it is still quite unknown to most people. With its 7.4% ABV, it is amongst the stronger beers on this list. It has a very full and balanced flavor with a hoppy aftertaste. It tastes excellent when served ice-cold.
2. Rose de Gambrinus: this beer by Brewery Cantillon is one of the best raspberry beers in the world. Pour it slowly from the bottle and you will have a wonderful pink liquid with a very fine carbonation, which looks more like pink champagne than beer. This beer is only recommended for the people who don't mind some sourness.
3. Blanche de Namur: few things taste as good on a hot summer day as a fresh white beer. For those who are a bit tired of the good old Hoegaarden, try this beer. It is a very refreshing beer, one of the best white beers out there.
4. Palm Hop Select: this beer was launched less than two months ago. It is a blond beer by Palm Breweries with a distinctive hoppy taste and an alcohol content of 6.0%. The hops for this beer are grown in the brewery's own garden.
5. La Trappe Puur is a very light and organic Trappist beer. It is a real-thirst quencher with only 4.7% ABV and a flavor close to that of a lager or pils beer.
6.Saison de Dottignies: Saison beers are the typical summer beers of the Province of Hainaut. These beers were traditionally served to the seasonal workers who came to work on the fields in summer. Saison beers have a dark blond to light amber color. Saison de Dottignies is one such beer by Brewery De Ranke.
7.Chimay Speciale Cent Cinquante is a limited edition that was launched in 2012 for the 150th Anniversary of the Trappist Abbey of Chimay. It is a full and complex beer, with a very distinctive citrus aroma. Unless you've been stocking this beer up, this might very well be the last summer that you can drink it. Don't drink too much of this beer while you are sitting in the sun, because it has an alcohol content of 10%.
8.Troubadour Magna is an amber colored beer with the full flavor of a Belgian Tripel, but with the bitterness of an American IPA. The bitter hop flavor makes this a real thirst-quenching beer, but it is also quite strong (9.0%).
9. Kempisch Vuur Hoppergod is a real summer beer by Brewery Pirlot. A thirst-quenching blond beer with a predominantly hoppy flavor and an alcohol content of 6.0%.
10. Alpaide : Although dark beers are more for cold winter days, we have put one dark beer on our list for those who cannot get enough of them. Alpaide is a dark beer by micro-brewery Nieuwhuys that can compete in flavor with the best abbey and Trappist ales.
All the beers on this list, as well as hundreds of others, are available at Belgianbeerz' website.