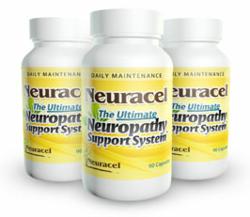 Austin, Tx (PRWEB) May 12, 2013
According to the Neuropathy Association, an estimated 20 million Americans suffer from Peripheral neuropathy, which is a condition that affects the arms, legs, and feet, areas where the peripheral nerves run to and from. Moreover, the Neuropathy Association states (http://goo.gl/Oh8mY) that Peripheral neuropathy can be caused by a large number of issues such as a Vitamin B12 deficiency, tissue diseases, celiac diseases, and most commonly, diabetes. While there do exist a large number of treatments for Peripheral Neuropathy, many of these are not natural. Neuracel aims to provide an alternative to these treatments, with the use of natural ingredients that are best known to provide pain relief.
Neuracel - A Detailed Overview
According to the experts at Neuracel, peripheral neuropathy can be a dangerous condition to suffer from. A burning and slightly tingling feeling soon follows with a loss of sensation and numbness of the areas affected. At its worst, Peripheral neuropathy can severely limit a person's mobility.
Part of the success of Neuracel lies in the way it deals with Peripheral Neuropathy. While most treatments require a visit to the doctor, these visits are not always possible due to the severe pain that neuropathy brings. In addition, even though natural remedies for Peripheral Neuropathy have been in existence for a long time, these remedies have not been used together. Neuracel aims to change all this with the use of natural ingredients such Passionflower, Lobelia, California poppy, Corydalis, and Prickly Ash Bark. These ingredients form the basis of many successful remedies that exist for Peripheral Neuropathy. Since Peripheral Neuropathy affects areas such as the arms, legs, and feet, each of the ingredients in Neuracel play their part by reducing the intensity of pain in all these areas and at the same time strengthen the nerves.
Further Information Regarding Neuracel
Neuracel is available for order at https://neuracel.com/specialoffer.php. For people looking for a completely safe and natural treatment for peripheral neuropathy, more information on special offers can be found at https://neuracel.com/specialoffer.php#ic. The manufacturers at Neuracel even offer a two week free trial as well as a 30 day money back guarantee.