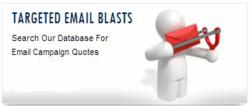 More Specific Targets equates to More Profits Cause You'll Get More Sales by Reaching The Right People
(PRWEB) May 13, 2013
In mid-May 2013, Omega One Marketing will be launching a brand new targeted search function for email marketing campaigns. This is an update from the previous search page for email marketing campaigns. With this new targeted search page and its functions, a visitor or customer can run a targeted search to see how many consumers are available for the sellers targeted niche of interest. So product and service providers can target online shoppers if they have a shopping website for example. Another example is that this new search function will allow clients to target only home owners in Illinois, or home owners in Miami, Florida if a mortgage provider wanted to reach home owners in a specific area of service. This new function will also allow sellers to run an email campaign targeting only doctors, or targeting only photographers if needed. Sellers and Services can see the new page and it's newly updated search function at this link targeted email marketing search. In that page, the topmost search function allows people to search for targets in all directions, and allows up to a level 4 specific targeting. Then the remaining 3 targeted search functions below that allows a quote inquirer to target the whole USA, the whole Europe, or world wide respectively.
In mid-May 2013, Omega One Marketing is launching a new online campaign portal that will allow customers to create an account and run their email campaigns in a DIY (Do It Yourself) manner online. So, with this new service, customers will be able to create an account and upload a chosen targeted email database to run email campaigns as needed. Sellers and Services can run small campaigns, or they can send to the whole list at once. Omega One Marketing offers different packages to choose from. These packages can be seen at this page Web Based Email Marketing Control Panel
Omega One Media is launching new power pack services that will cover Search Engine Optimization and Social Media Marketing. These new power packs will offer new SEO Packages that will be broken down into 3 levels to choose from. They will also offer 2 or 3 Social Media packages to choose from. Sellers can learn more about these packages by visiting the website here at Search Engine Optimization and Web Design Service.
Omega One Marketing now offers precision targeted excel spreadsheet email lists with complete contact information included in the database. Omega One Marketing's vast databases are now able to do any level of specific targeting that customers may need in excel email lists. The available excel spreadsheets offer Physicians excel spreadsheet email list / Doctors excel email addresses, Architects email lists, Accountants excel email list, Web developer excel email lists, CEO excel email addresses and CIO email lists in excel, business email list in excel and so on. The excel spreadsheet databases here have any kind of profession or business out there available. Basically, any business target that clients or potential customers might need, is available for sale here. Omega One Marketing's excel spreadsheet data also offer consumer excel email lists like home owners email lists in excel spreadsheet, residential target email lists in excel file, shoppers excel email lists and so on. More details on the excel email addresses are available here Business email lists in excel spreadsheet.
All these new services and function updates mentioned in this press release are being launched by the middle of may 2013. Visit and enjoy any of these features for a more efficient marketing strategy!
Websites:
If viewing this PR via a medium that doesn't allow click the links above, below are the 2 websites offering these services:
Targeted email campaign Search: iomegaone.com
Search Engine Optimization: omegaonemedia.com
Targeted Excel Email list: iomegaone.com
Social Media Marketing: omegaonemedia.com
Press release by Omega One Marketing
May 11 2013