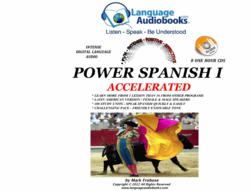 We responded to the requests of our many language learning followers and created the most intense, the most enjoyable and the most effective Spanish language program in the industry!
Mark Frobose LanguageAudiobooks.com
Champaign, IL (PRWEB) May 13, 2013
Language Audiobooks Founder and President Mark Frobose announced today the release of his company's new Power Spanish I Accelerated audio language program.
"We responded to the requests of our many language learning followers and created the most intense, the most enjoyable and the most effective Spanish language program in the industry," stated Frobose.
What makes Power Spanish I Accelerated different from other language programs?
"Power Spanish I Accelerated challenges the learner to speak, then to remember, and then to actually create his or her own original language," explains Mark.
"With Power Spanish I Accelerated you become more than just a language learner parroting stock phrases," he explains. "With Power Spanish I Accelerated the learner becomes a language creator who learns to speak his or her own mind in Spanish."
Mark Frobose is nation's best know language program creator. He actually invented the entire audio language line for Macmillan Audio of New York and speaks 5 languages fluently and many others conversationally.
"I came from a place of zero fluency, to total fluency, in not just one, but in 5 different languages," states Frobose.
"If I can do this, anybody can, and Power Spanish will make it fast, fun, challenging, and easy to do," concludes Mark.
LanguageAudiobooks.com is the nation's leader in fast and easy to learn language programs. Free language lessons and a free ebook are available now at their website
http://www.languageaudiobooks.com