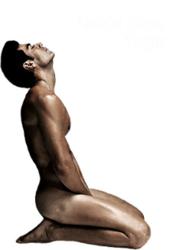 We hide in cocoons, when we could be free as butterflies.
New York City, NY (PRWEB) May 14, 2013
Practicing Yoga in the nude can be extremely liberating and now a recent article by Hank Pellissier suggests that being naked has health benefits for body and brain. Many cultures - going back to the ancient Greeks and Romans - embraced the bare-all attitude to exercise and enjoyed communal nudity as they drank, dined, read books, watched theatre and argued politics.
Nowadays, nudity is only connected to sexuality, negating the positive effects on the epidermis, the senses and neuro-intelligence. We were born free and pediatricians agree that infants thrive with 'naked time' because the unrestricted range of motion aids in brain development, stimulating neuron growth. Neuroplasticity experts today believe that everything that can happen in a young brain can happen in an older brain as well and imply that 'naked time' is equally valuable for humans of any age.
Many podiatrists advise going barefoot as the sensation in the sole of the foot entices the brain into growing efficient neuron connections.
Le Male Yoga in New York City offers Naked Yoga for Men to encourage openness, acceptance of feelings and expressions of energy. As the clothes come off, students trip off layers of protection and masked identity to meet on a level of equality. Naked Yoga brings a greater level of awareness and sense of freedom inspiring a more mindful and connected practice. With the added benefit on body and brain, is the future going to be all naked?
About Joschi Le Male:
Power Flow Yoga, Pilates Workout and Tantric Yogassage for Men
Whatever your ambition, Le Male is the ideal destination for unprecedented, innovative YOGA andPILATES WORKOUTS and state of the art holistic BODY RITUALS.
Whether students are a beginner, advanced practitioner or somewhere in between... Le Male offers a unique opportunity to recharge the body, update the mindset and celebrate life!
Le Male provide a friendly, spirited, vibrant and real community for all men - gay, straight or bisexual, who enjoy fitness, communal bonding, socializing & having fun in a safe and pretense-free atmosphere.
At Le Male patrons find impeccable service, expertise and personal touch that exudes quality and inspiration. Whatever students choose, they receive an unforgettable experience of passion, care and imagination.
Le Male is the only Yoga and Pilates Studio for Men in NYC and the world and partner of the internationally accredited Yoga Alliance Registered Joschi Yoga Institute.