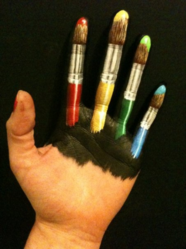 " Facebook offers so many user engagement methods that can be used to attract more clients and spread the word on any business." Ciaran Connolly, Co-Founder of ProfileTree
London, UK (PRWEB) May 17, 2013
Kate Dean used her talent in body and face painting and turned it into a viable successful business. She speaks to ProfileTree about Body Painting and Face Painting Art.
When asked about the advantages of working for herself, Kate said: "If I'm not feeling particularly artistic, I can take a break and take my dog for a walk or do something to take my mind off it. Or, if I want to work all through the night, then I can do that also."
About the internet and social media's role in her business, Kate said: "It's an incredible time we're living in; I find it so fascinating that something I did at home one day can now be seen by people all over the world."
"As for Social Media, She said, "It plays a huge role. I'm lucky that what I deal with is very aesthetic. Pictures can now be shared so easily and freely that spreading the word about something like this is so much easier nowadays."
Ciaran Connolly, Co-Founder of ProfileTree suggests using Facebook to engage fans on daily basis with promotions, surveys and questions. "Facebook offers so many user engagement methods that can be used to attract more clients and spread the word on any business."
If you have been offering a skill or service -and would like to share some advice with others - or share where you have had success and things that did not go so well - just email the team at ProfileTree today. Send your details to hello(at)profiletree(dot)com and you will be contacted shortly. ProfileTree is an online free advertising website which shares profiles along with tips and advice for its users.
Profile Tree's main goal is to help small business owners reach new customers every day with the most innovative online marketing tips and techniques.
About ProfileTree: ProfileTree is a free listing service where self employed and small business owner can create an online marketing profile. From Pencil or Portrait Artist to Self Employed Service Providers - anyone can create a skills profile on ProfileTree for free.