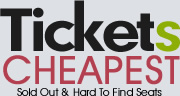 Visit Tickets-Cheapest.com online now and get tickets to a Rolling Stones concert to be remembered for a lifetime.
Washington, DC (PRWEB) May 13, 2013
The Rolling Stones added a concert tour June 24 at the Verizon Center in Washington DC which now becomes the Stones' last stop for this North American tour named Fifty and Counting. In addition to the new Rolling Stones Show in Washington DC, the remaining tour venues include Chicago, Toronto, Anaheim, Boston, Philadelphia, Washington DC, Montreal and Los Angeles.
If The Rolling Stones Washington DC tickets follow the pattern from just about every other show on this tour, all seats under $450 will sell out in two hours or less from their initial offering at 10am Monday May 13. Even before tickets become available for the public to buy, Tickets-Cheapest.com offers a wide variety for sale, with a large inventory remaining available even after a box office sell out.
Supplementing their huge supply of Rolling Stones tour tickets, Tickets-Cheapest.com can offer a few pairs of Rolling Stones Boston tickets with no service fees including one set showing a face value of $250 for only $200 each. To buy these special tickets, fans must call Tickets-Cheapest.com at 800 351 3301. The cheapest Rolling Stones tickets on the tour may be found for the Rolling Stones Anaheim shows where several sets may be purchased for under $200 including service fees. While not quite as cheap, the Rolling Stones Chicago Tickets and Philadelphia Stones Shows remain some of the most popular. If all these locations remain far away, book a discount hotel deal and turn the concert into an overnight trip.
In addition to The Rolling Stones themselves including original members Mick Jagger, Keith Richards with long term Stones Charlie Watts and Ronnie Wood, fans might see a special guest appearance. Former Rolling Stones band member Mick Taylor seems to pop in for a song at these Stones shows frequently. Tour dates in late 2012 produced guest artists including Bruce Springsteen, Eric Clapton, Lady Gaga, The Black Keys, John Mayer, Mary J Blige, Florence Welch, Bill Wyman and Jeff Beck appearing on stage to play along with The Rolling Stones. True to form the Stones started the Los Angeles concert with surprise guest musicians Keith Urban and Gwen Stefani. In San Jose the Rolling Stones welcomed John Fogerty and Bonnie Raitt with Tom Waits in Oakland and Katy Perry in Las Vegas.
Financial Firebird invites fans to compare Tickets-Cheapest.com to their favorite online ticket service. In a more extensive survey of ticket resale sites comparing the exact same seats Ticket-Cheapest.com offered lower prices than all 25 out of 25 competitors surveyed including beating Stub Hub. Chances are those looking for sold out tickets or premium seats at concerts, theater or pro sports events can buy tickets cheaper at Tickets-Cheapest.com every time.
Rolling Stones reviews from the early shows on this tour indicate terrific performances with great energy from the Stones plus fun guest stars. Just because Rolling Stones tickets sold out at the box office taking advantage of the inventory at Tickets-Cheapest.com means fans may still buy seats and actually buy them cheaper than at most other resale sites. Visit them online now and get tickets to a concert to be remembered for a lifetime.
About Financial Firebird and Tickets Cheapest
The site to buy Cheapest Tickets online and its sister sites, including the site to buy a Broadway ticket online, all geared for the consumers looking for low prices, are affiliated with the Financial Firebird Corporation Travel Group, and stand among the top sites sought by travelers and people who enjoy concerts, pro sports and theater performances. Financial Firebird Corporation, established in 2000 and a proud BBB member, provides unbiased consumer information particularly involving consumer debt, software and marketing services. These sites for consumers to buy tickets online operate in the resale market and maintain no relationship with the venues or performers. The resale ticket market allows consumers access to popular events once the box office has sold out or to buy premium seats when the venue no longer offers any inventory. Within the group of these secondary market ticket services the Financial Firebird owned ticket sites offer lower prices than competitors. Find the site at Tickets-Cheapest.com.