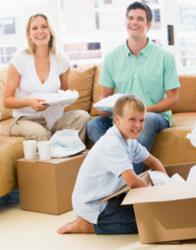 Moving Companies - Compare Movers and Moving Services
(PRWEB) May 13, 2013
Moving is a stressful time for all, but especially for families with kids. In addition to concerns over a new location, and personal belongings arriving on-time and damage free, parents have to contend with children who may see the move as a personal assault on their lives that they had no opportunity to provide input for.
http://www.Moving411.com has published an article addressing the stress of moving with kids, and some suggestions for parents on order to ensure that the process is as smooth as possible. Moving411.com's article details some of the common emotions that children will feel when presented a move they did not get the opportunity to plan for, and steps parents can take to mitigate the negative emotions they will likely encounter from the initial moving discussions, to packing and moving day. By following the advice in The movers directory article, all parties will be able to view the move with excitement, and not dread.
Moving411.com will continue to update this article as new information become available.
About Moving411.com
The company offers an online service that helps people to find the best moving deals. Moving 411 has been working untiringly since 2001 to educate people about how they can make your move easy. Practical advice is provided on its website that helps people to save time and money