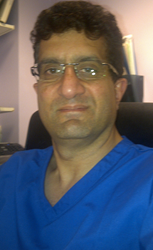 Here at Langley Dental Practice we make it a routine that at every regular check up of our patients we ask about and record smoking and alcohol habits which are known risk factors for mouth cancer
(PRWEB) May 13, 2013
Tariq Drabu, leading Manchester GDC registered dentist and the owner of Langley Dental Practice in Middleton, Manchester has today issued his strong support for calls from the British Dental Health foundation that patients who suffer from mouth cancer should be given free dental treatment. This follows a report by BBC's 5 live investigates programme which reports that mouth cancer patients are not exempt from NHS dental charges, meaning they still have to pay for routine treatment and check-ups. Currently those who get access to free NHS dental care include under-16s, pregnant women and those who have given birth in the previous 12 months.
Tariq Drabu added that patients who qualify for certain benefits are also exempt from dental charges, while those on the NHS low-income scheme can receive full or partial exemption. But the British Dental Health Foundation which is a UK dental charity wants to see that extended to include mouth cancer patients. Dr Nigel Carter, chief executive of the British Dental Health Foundation, said: "Mouth cancer is a particularly debilitating cancer. A lot of the surgery that is involved can really be very traumatic for the patients and their quality of life is impacted as a result. To then have to worry about trying to find the funds to pay for the appropriate restorative treatment seems to be totally unfair." A BBC news report about the item can be seen here.
Tariq Drabu said "Sometimes when I talk to patients they are not even aware that you can get cancer in your mouth. Here at Langley Dental Practice we make it a routine that at every regular check up of our patients we ask about and record smoking and alcohol habits which are known risk factors for mouth cancer. We also try and regularly offer preventative advice about smoking and alcohol. These are some of the frontline things that we as dentists can do in order to tackle the problem of mouth cancer. Also at every examination we do a thorough check not only of the teeth and gums but also of all the soft tissues of the mouth to detect any possible signs or warnings of mouth cancer. The majority of mouth cancer cases are linked to consumption of tobacco and alcohol. When we look at our patient population we are looking not just at cigarettes but also amongst our ethnic minority patients we are looking at issues such as habits of chewing tobacco, betel quid, gutkha and paan."
Tariq Drabu continued "People ask me what the signs and symptoms of mouth cancer are. A white or red patch presenting in the mouth is one of the early signs of mouth cancer. Another sign is an ulcer in the mouth sometimes painful, sometimes painless that does not heal normally after a period of around 2 to 3 weeks. I would urge any patients with these type of symptoms to present themselves to a dentist in order to get themselves examined. It may be something it may be nothing. However the BDHF line is the correct one and the one that I support - 'If in doubt get checked out.' Most of the time it will be nothing and sometimes patients feel concerned that they have wasted our time. Nothing could be further from the truth. I would rather have a dozen concerned patients who think they may have something wrong with them but are actually okay, rather than missing the one patient who really does have mouth cancer. Because it is that one patient who really does matter and who really does need our help."
Tariq Drabu pointed to the work that his media affair department has been doing around Mouth Cancer Action Month. This is a month of action in November organised by the British Dental Health Foundation (BDHF). The aim is to increase knowledge and awareness of a disease that has increased by around 50% over the last 10 years. The BDHF estimate that over the next 10 years around 60,000 people will be diagnosed with this disease. Without early detection around half of these people will die. By 2030 the BDHF estimate that almost half a million people worldwide will die from mouth cancer.
Tariq Drabu said "The media affair department worked with our staff and our patients during this month. We repeated the need for all our staff to advise patients on the risk factors involved with oral cancer i.e. reducing smoking and drinking. We also had patient information, which covers the topics of healthy eating, smoking cessation and sensible drinking, available in the waiting room and at reception. As well as that we have a practice policy of no-smoking, both in work areas and in the waiting room. We have involved all our staff in the development of these policies."
Tariq Drabu was critical of the government position on this matter. He said "The government response is that the local NHS can waive the fees which in current circumstances is very unlikely, or that the treatment can be provided free within a hospital setting which is very expensive to the public purse. If the government underwrote the cost of the treatment it is a minimal cost to the public purse. It seems that they are not able or willing to move on this matter"
Tariq Drabu concluded by saying "Cancer is a disease that affects us all directly or indirectly whether within our family circle or amongst friends it is a condition that has a profound impact upon all those who come across it. Our role as dental professionals is to firstly educate our patients to look out for the signs and symptoms of mouth cancer. We must also focus on the factors that cause mouth cancer such as smoking and alcohol and issue strong preventative advice to our patients to reduce smoking and alcohol consumption. Finally we must be vigilant at all times when we examine our patients and look out for the signs and symptoms of potential mouth cancers. We must work together with our patients to do whatever we can to fight this disease."