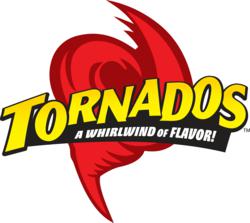 Dinuba, CA (PRWEB) May 13, 2013
Tornados, the most popular roller grill food in convenience stores across the United States, offers a unique experience for two winners: meet Rodney Atkins at the June 4, 2013 'Music City Gives Back' concert to include:

tour of the backstage production trailer, Rodney's bus, walk up the back steps just like the artists
play list signed by Rodney Atkins
guitar autographed by Rodney Atkins
pose for photos with Rodney Atkins (and he will share on his FB page)
air fare and hotel accommodations for two
Fans can enter once each day and must be 18 years or older to win. See http://www.facebook.com/Tornados entry form for the entire sweepstakes rules.
Tornados – a perfect blend of bold ingredients, all rolled in a crispy seasoned shell – offers consumers a wide variety of flavors to include items perfect for every eating daypart:
Breakfast Flavors:
Bacon, Egg & Cheese
Sausage, Egg & Cheese
French Toast & Sausage
Steak, Egg & Cheese
Supreme Omelet
Maple, Sausage & Egg
All Day Flavors:
Southwestern Style Chicken
Ranchero Beef Steak & Cheese
Habanero Cream Cheese
Cheesy Pepper Jack
Jalapeno, Chicken & Cheddar
Pork Chile Verde
Cheese & Pepperoni
Grilled Chicken & Cheddar
Meatball Marinara
Spicy Chicken Alfredo
NEW: Buffalo Bleu Chicken
NEW: Chipotle BBQ Chicken
ABOUT RODNEY ATKINS
Award-winning singer/songwriter Rodney Atkins has an impressive track record with hitting on sentiments that strike a chord with the country listener. Atkins has landed six No. 1 hits, including the most recent platinum-selling chart-topper, "Take A Back Road," and has over five million single sales in the past five years alone. The latest album, TAKE A BACK ROAD, has helped propel Rodney to even higher heights with the out-of-the-box smash, "Take A Back Road," along with father/son themed "He's Mine," and the laid back cruiser, "Just Wanna Rock N' Roll."
In 2006, Rodney was named ACM's Top New Male Vocalist while also garnering back-to-back recognition with Billboard's Most Played Song of the Year Award for "If You're Going Through Hell" (2006) and "Watching You" (2007). Since the start of his success, Rodney has appeared on the Tonight Show with Jay Leno, Jimmy Kimmel Live!, The Late Late Show with Craig Ferguson, The Early Show on CBS, Good Morning America, Fox & Friends, CNN Headline News and many more. He is also the national spokesperson the National Council for Adoption. For more information on Rodney Atkins, visit http://www.rodneyatkins.com.
ABOUT RUIZ FOODS
Ruiz Foods is a privately owned corporation. Kim Ruiz Beck is Chairman and the elder daughter of Co-Founder and Chairman Emeritus, Fred Ruiz. Rachel Cullen is the President and CEO.
Ruiz Foods is dedicated to premium quality, authentically prepared frozen foods selling to all channels of distribution: retail, convenience store, clubs, vending, industrial and foodservice. The El Monterey® brand is the market leader within the frozen Mexican food category and the No. 1 brand of frozen Mexican food in the U.S. The Tornados® brand, introduced just eight years ago, has revolutionized the use of the roller grill in convenience stores. For more information regarding Ruiz Foods, please visit http://www.ElMonterey.com. For more information about Tornados, please visit http://www.MyTornados.com. ##